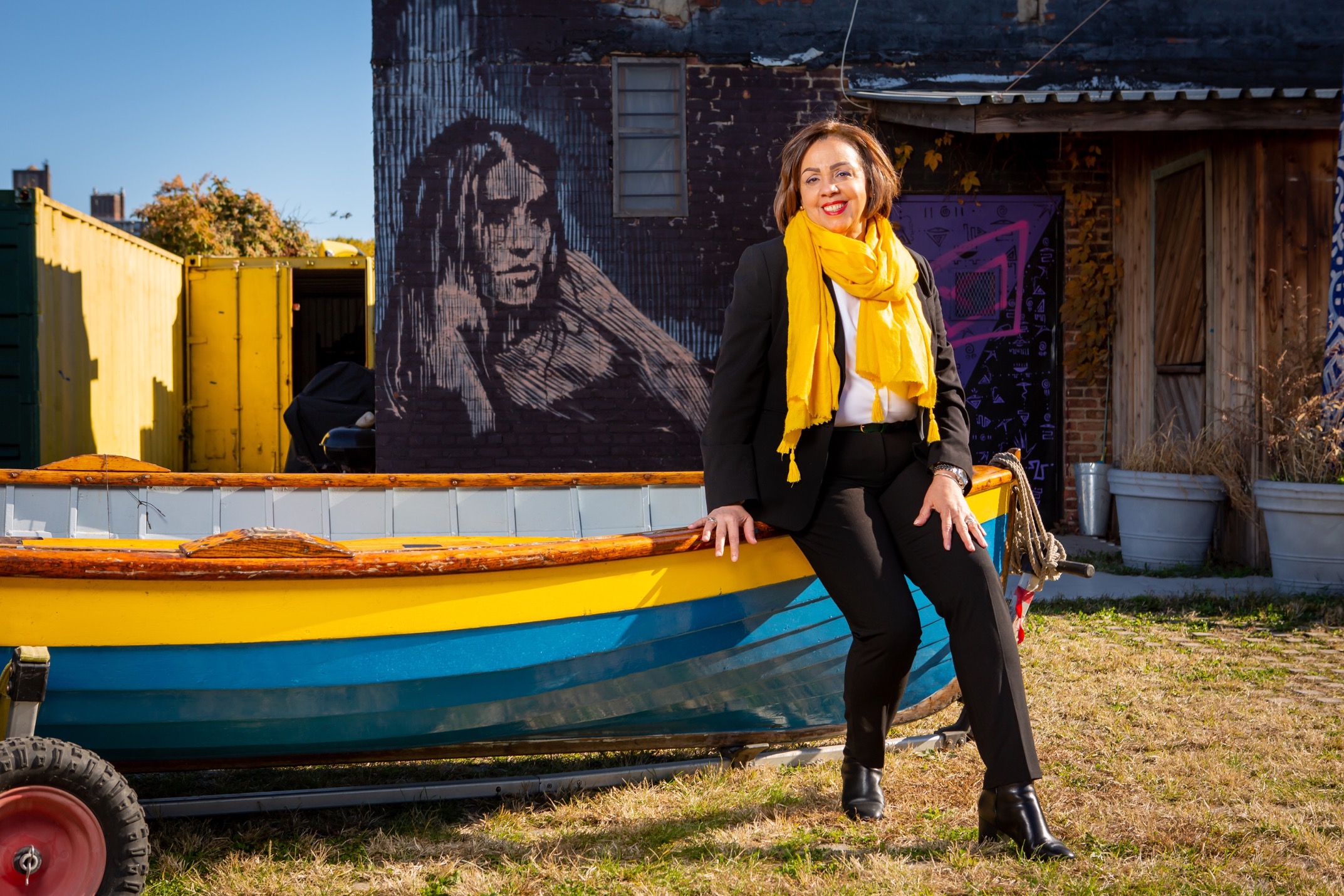 "Our culture is rooted in community and personal relationships. We value our clients and prioritize one-on-one connections to understand their goals and who they are. By doing so, we can serve them better." – Josefa Ruiz, Spring Bank Branch Manager
While we're proud of our designations as a B Corp and Community Development Financial Institution (CDFI), we know that it's the people who make up the Spring Bank team that truly make us a community bank. Their kind, personable, and caring energy connects individuals, small businesses, and nonprofits to our affordable services which help our neighborhoods grow. 
That's why this month we're happy to introduce you to one of our valued team members, Josefa Ruiz. 
Josefa has been with Spring Bank for six years as the Vice President and Branch Market Manager for our Harlem and Bronx locations. She's done everything from consumer lending to personal banking to commercial banking. Her current role consists of training staff to be "universal bankers," meaning that they can both serve as tellers and also know our full suite of financial products in order to support our clients, whether it's a nonprofit seeking a loan or a local entrepreneur looking to open a new business bank account. Building a team with a diverse skill set means that no matter who our clients meet or what their needs are, they're in good hands. 
While Josefa's top priority is coaching and mentoring staff, she also contributes to the bank's growth. Like many of our team members, Josefa has a real commitment to the bank's success, which comes through her work. 
"Working at Spring Bank is something I'm truly proud of. I've put my efforts into investing in this community and I want to see it grow," she says.
Josefa is always learning something new. As a small bank in NY, she's been able to get involved in bank operations in a way that branch managers at larger institutions typically don't. This allows her to support her teammates better and quickly make improvements, something she never experienced working for big banks in the past. 
"If there is ever a concern, I can communicate with the CEO, COO, President, or the Chief Lending Officer easily. They really value my opinion, and you just don't see that at other institutions," Josefa says.
Thanks to Josefa, our staff is guaranteed to give you a personalized experience, whether online or at a branch. She understands that accessibility is everything when it comes to serving our community, and proudly shares how our services are designed to make banking convenient and easy, and built to support you, your business, and your family for the long term. 
For example, we offer Zelle through our Spring Bank app so you can securely pay rent, split a bill, or gift money instantly. We also know that 40% of New Yorkers are foreign-born, so you can open a personal checking account or personal savings account with us as a non-resident with just an ITIN. Did you recently apply for personal loan and want a status update? You don't have to call an 800 number to get in touch – simply call our direct line and get instantly connected to a real team member who will support you.
As Josefa says, "Our culture is rooted in community and personal relationships. We value our clients and prioritize one-on-one connections to understand their goals and who they are. By doing so, we can serve them better."
Our mission has always been to serve the needs of individuals and small businesses in New York City. While we continue to make our impact felt as a community bank in Bronx, New York, we have plans to make our affordable and transparent services more accessible by expanding our branches into Brooklyn in the next few years. And Josefa will be part of it every step of the way.
"We value our clients. We ask questions and truly listen to the answers – we're not just here to sell a product. It's important to us to be there for them because it's the relationships that make the Spring Bank culture and community what it is," she adds. 
Thank you so much, Josefa! We are so grateful to have you on the Spring Bank team and look forward to continuing our mission to build a stronger, more resilient NYC together.
Interested in learning more about Spring Bank? Find out what makes The Bronx a place where everything is possible or get the back-to-school season started off on the right foot with 6 healthy money management tips to teach kids and young adults. 
Meet other members of our team: