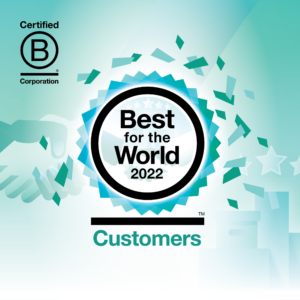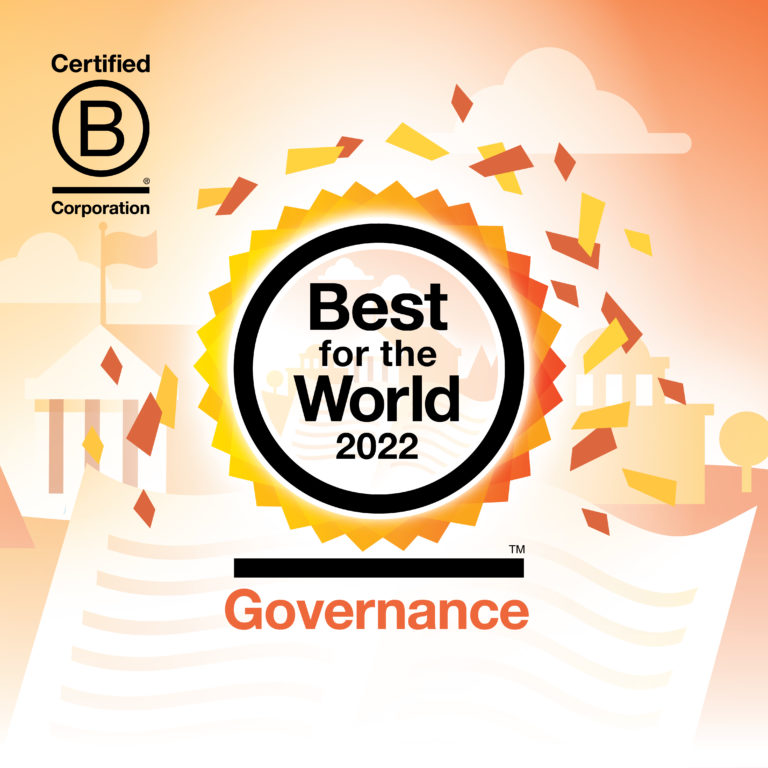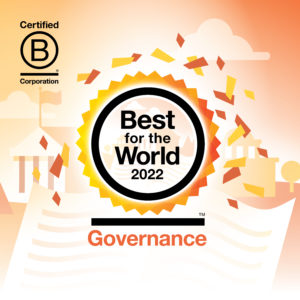 "Being a B Corp allows us to keep our core values front and center. When you run a business day-to-day, it's tempting to take the easiest path to profitability. Having the B Corp principles and B Corp metrics ingrained into our DNA over the past six years helped us guard against this and allows us to be the company we set out to be when we first started Spring Bank."
 – Demetris Giannoulias, CEO
We are elated to share with the community we so proudly serve that we've been awarded for Best For the World™ in Customers and Governance by B Lab for the sixth year in a row! This recognition is so much more than a badge of honor. It's a reminder of our commitment to create a world where all people have equal access and the opportunity to build prosperous and abundant futures for their families and communities.
For most banks in NY, striving for social and financial equity is seldom the norm — but ethical banking and stakeholder primacy has always been in our DNA. Here's how our ongoing initiatives earned us the Best For The World™ 2022 award:
Keeping It Local
As a community bank in Bronx, New York, we strive to create the best personal savings account, personal checking account, and loan products to help underserved clients build wealth and avoid getting trapped by predatory services. While conventional banks often neglect or take advantage of underbanked consumers, we commit to constantly innovating our services based on the needs of our community in order for the people of NYC to thrive. Our offerings are affordable and accessible, and we work to ensure your path to financial security by providing education and resources through our financial wellness partners.
Keeping It Human
We love our customers! We don't say that lightly. We work hard to create a personal banking experience because our customers are our neighbors. Additionally, many staff members have been born in or live in the Bronx and Harlem. So, it's personal for us too. We do our best to meet the financial needs of the community, working together toward financial inclusion, wellbeing and prosperity — because it's our home, too!
Supporting Small Business
Small businesses bring life to local communities and serve as the backbone for the U.S. economy. Our clients work not only to create a livelihood for themselves, but also to keep jobs in our neighborhood and wealth within the community. Traditional banks make relationships with small business accounts transactional. Our approach is different: we seek to encourage entrepreneurship, offer resources, and be a partner to small businesses throughout the New York area.
Being a B Corp
B Lab's programs and tools help B Corps like us and non-B Corps plan for a resilient future conscious of our social and environmental footprint. The organization continually evolves their tools and strategies to measure impacts in the areas of governance, workers, community, environment, and customers.
As Best for the World™ in Governance, we were evaluated by our "overall mission, engagement around social/environmental impact, ethics, and transparency in formally considering stakeholders in decision-making." Our impact makes us one of the top 5% out of 5,000 certified B Corps worldwide to receive the award!
As a B Corp since 2016, we measure our progress in meeting the impact goals held by B Lab —but we especially hold ourselves accountable to our customers. In doing so, we work to embody what it means to use business as a force for good and contribute to the collective goal and vision of the B Corp movement: to transform the global economic system to benefit all people, communities, and the planet.
We accept the Best For The World award with sincere gratitude — and offer congratulations to our fellow awardees! If you're looking to be supported by a bank that serves the best interest of you and your community, contact us about opening a personal savings or new business bank account
A Spring Bank Staff Feature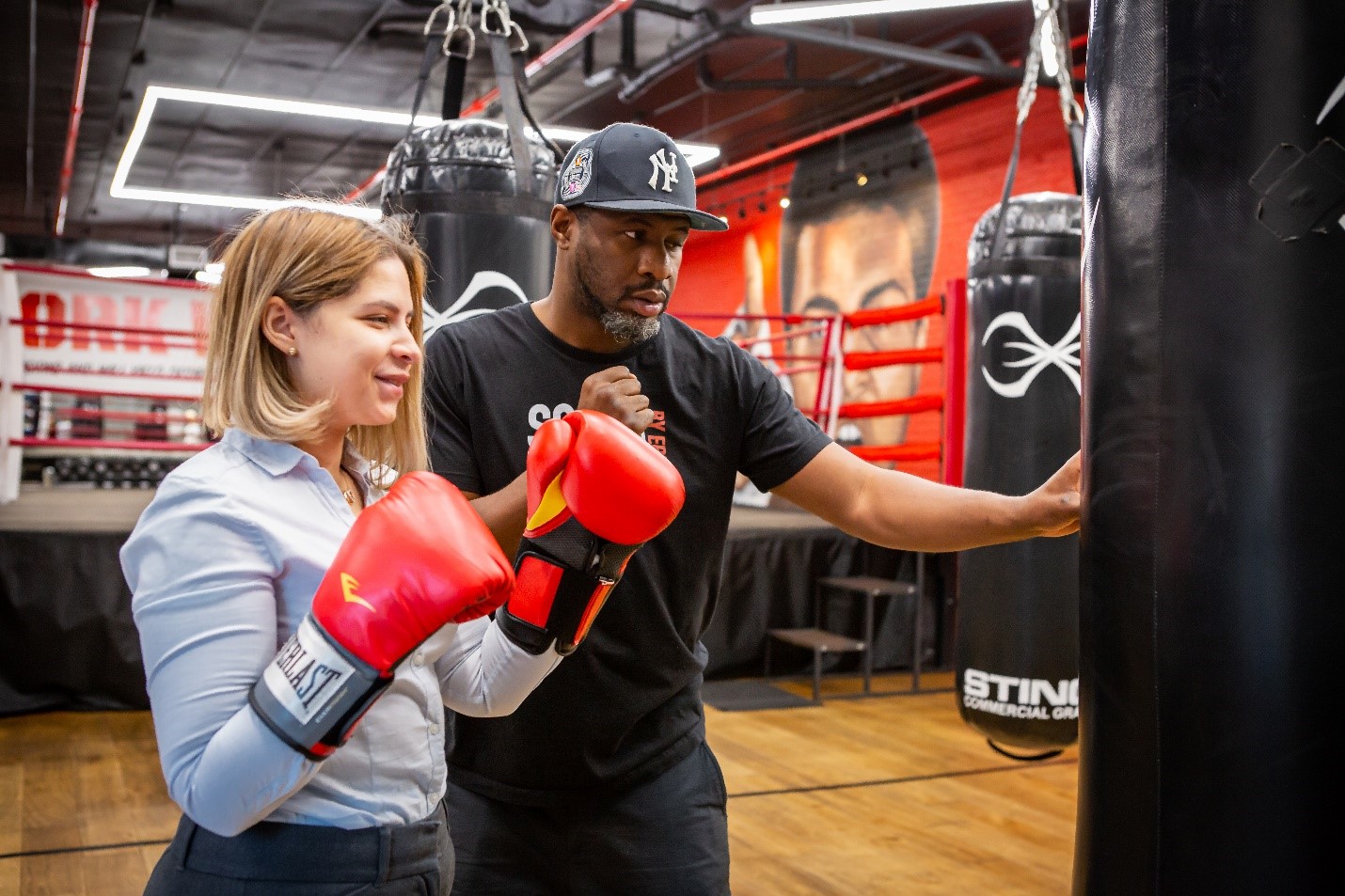 At Spring Bank, we are proud to have a team of compassionate and enterprising professionals who serve the community and provide financial services that make us the best bank in NY. Each month we highlight team members in our Staff Feature so you can get to know them better. Please meet Rosalyn Figueroa!
Raised in the Bronx, Rosalyn has been an instrumental member of our team for over seven years. She has mastered many positions in the bank – from teller to greeter to personal banker. Now, Rosalyn works in our compliance department as a Bank Secrecy Act (BSA) Analyst to ensure that activity within the bank accords with federal regulations. For Rosalyn, this is a full-circle moment from her undergraduate degree in criminal justice.
"I didn't get to where I am by only doing my job. I was always peeking over someone's shoulder to learn how to do something else from the day I started at Spring Bank," Rosalyn explains of her persistence. "I am always asking questions."
Rosalyn transitioned into our compliance department because she was ready to grow, looking for an opportunity to push herself. Her current role as a BSA Analyst provides new challenges. Her role is to protect the bank from fraudulent activities and crime. Some of her work includes analyzing customer behavior and investigating suspicious activity.
"Before, I used to think banking was about making a deposit and a withdrawal, but it's so much more. I know how crucial it is to protect the bank's assets and ensure our customers' money is secure," says Rosalyn.
Rosalyn's interest in banking sparked while she was working as a cashier at a supermarket. She thought she would be interested in banking since she enjoyed managing the transactional process at the register. However, the community culture at Spring Bank instilled a new perspective in her that unlocked her potential. She appreciates being part of a small team at Spring Bank where everyone contributes, and their contribution is respected.
"Community is core to our mission. We not only advocate and support our clients, but our staff is supportive, too. They're not my co-workers anymore. They're my family," says Rosalyn. "We're a small bank [compared to our competitors]. And I always say what sets Spring Bank apart from every other bank is that we get personal."
And she's right! You'll get a personal experience with us right when you walk through the door. To this day, Rosalyn still promotes our services, knowing we are one of few banks that offer products like our small business loans and E-Bike Loan NYC.
With curiosity, determination, and willingness, Rosalyn has grown with us. Learning about her leadership capabilities has given her newfound confidence to take up space and opportunities that come her way. Rosalyn is currently working toward her Certified Anti-Money Laundering Specialist (CAMS) certification. She is also considering a Masters's degree in financial crime. Thank you, Rosalyn, for your commitment, positivity, and care for our mission and customers! We are grateful you are part of the team!
A Small Business Feature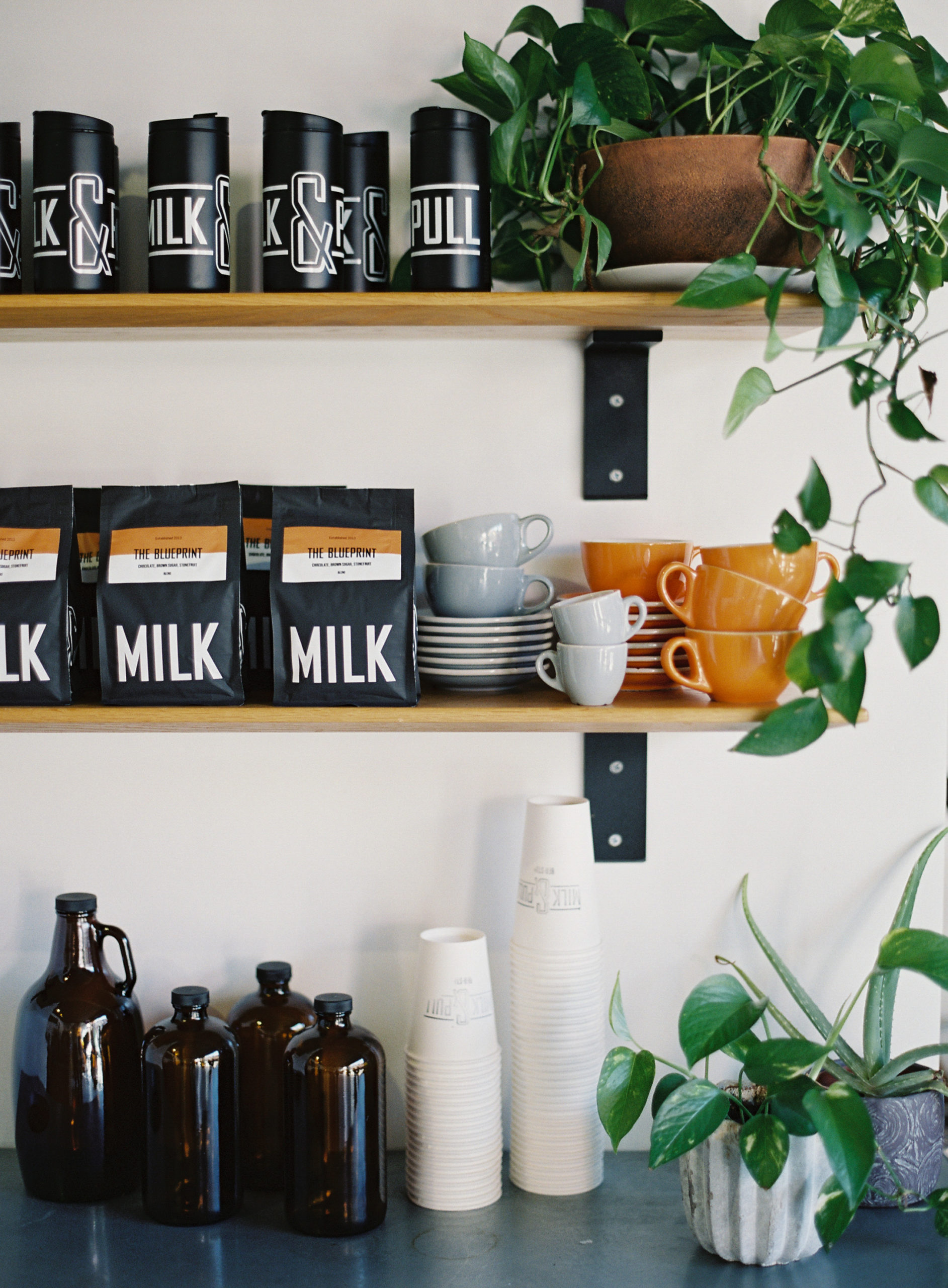 Photo Credit: Milk & Pull
A fresh cup of coffee is the first thing many folks reach for before starting their day.  Whether brewing a pot at home or grabbing a delicious blend at your local coffee shop, the experience can set the tone for your day.  As a community bank in NYC, we love supporting small businesses that have a positive impact on their neighborhood.  Milk & Pull, one of our Brooklyn-based small business clients, has been elevating the coffee experience in Brooklyn through love and community.
Founded by Joe and Angela Austin almost ten years ago, Milk & Pull is slowly developing into a mainstay in the culturally rich borough of Brooklyn.  With the help of Spring Bank, the two have expanded their impact by opening two additional locations in Bed Stuy and Ridgewood since 2013.  The process of getting a commercial mortgage can be quite a roller coaster, but the team at Spring Bank helped secure a loan to acquire real estate for expansion.  We sat down with the devoted power couple to learn about their journey and why they invested their life savings in starting a local coffee shop chain in one of the largest cities in the world.
"When people think about coffee, it's like fast, fast, fast.  Go, go, go.  And for us, coffee is our moment to slow down — to build conversation and develop friendships because even at the shop, I like to sit down and have a cup of coffee.  I talk to the people sitting around me to get to know them.  So to us, coffee is a means to slow down and connect with other people," says Angela.
For Angela, coffee has always been a part of her Colombian culture.  Her grandfather owned a coffee farm but was displaced during the guerilla war.  So running a coffee shop and diving into the coffee industry was a way to restore tradition to her family.  Likewise, Joe's love for coffee started as a teen while working at Starbucks.
Milk & Pull began as a coffee and empanadas cafe representing Colombian culture.  The young couple's dates included trips to coffee shops for market research and returning home to build a plan.  Between finishing school and starting new corporate jobs, Angela and Joe temporarily put the business idea on hold until 2010, when they moved to Bushwick.  The neighborhood culture was brimming with an entrepreneurial spirit.
"We had friends that were opening up coffee shops, bars, and there were a lot of artists there," says Joe.
Joe felt lucky to be surrounded and supported by insightful entrepreneurs.  He asked thoughtful questions and learned how to grow a successful business from their stories.
"One day, one of Joe's customers told him something that impacted both of us.  They said, 'So what if you lose the money?  You're young.  You both work at good jobs.  What's to lose?'" reflects Angela of the customer's advice.  "It was so simple, yet so impactful," she continues.
The Austins realized they had nothing to lose.  If they failed, they were still young enough to recover.  So, fueled by inspiration and encouragement from the neighborhood and colleagues, the couple revisited their business idea and invested their life savings.  Then, they crunched the numbers to pool just enough money needed to start the business, pivoting to coffee only and finding a space with the least amount of renovation required.
On the surface, Angela and Joe were a young couple just starting with no prior business experience.  However, their sizable savings and solid credit scores helped ease landlords' hesitancy and secured them a lease in Bushwick.  It's safe to say the landlord made the right choice, as Milk & Pull's first location has been in operation this month for nine years.
The success of Milk & Pull did not come easy, of course.  Angela and Joe did not quit their 9-5 jobs while starting the business.  Many people opposed the idea, "Folks said, 'You're not going to be able to build this business if you're not putting your all into it.'" But clearly, they were wrong.  Angela and Joe's dedication and willingness to make short-term sacrifices lead them to create a successful sustainable business with an income that they don't need to rely on for their livelihood.
Milk & Pull set themselves apart in a heavily saturated small coffee shop scene.  Coffee franchises can feel transactional, but the small business brings a unique value, more than just a cup of coffee: love for what coffee represents in communities, its ties to family tradition, and its ability to build relationships.
"We design our spaces to feel like your second living room because we want people to stay, work on their own stuff, and connect with others," says Angela.
We proudly provide small business account services to support Milk & Pull and their commitment to good coffee and building community.  Check out where you can visit them in Brooklyn.  Read their mission statement for the love of coffee and community.  And, if you are a small business owner looking for banking support, check out our small business account and lending options here.
"I live at the bottom of a hill. With my old, non-electric bicycle, I used to push it up that hill, then again and again because my neighborhood has a lot of hills. I was practically pushing it all the way to work! But now I can enjoy the ride because of my new E-Bike and the E-Bike Loan NYC I received from Spring Bank." – Pamela Martinez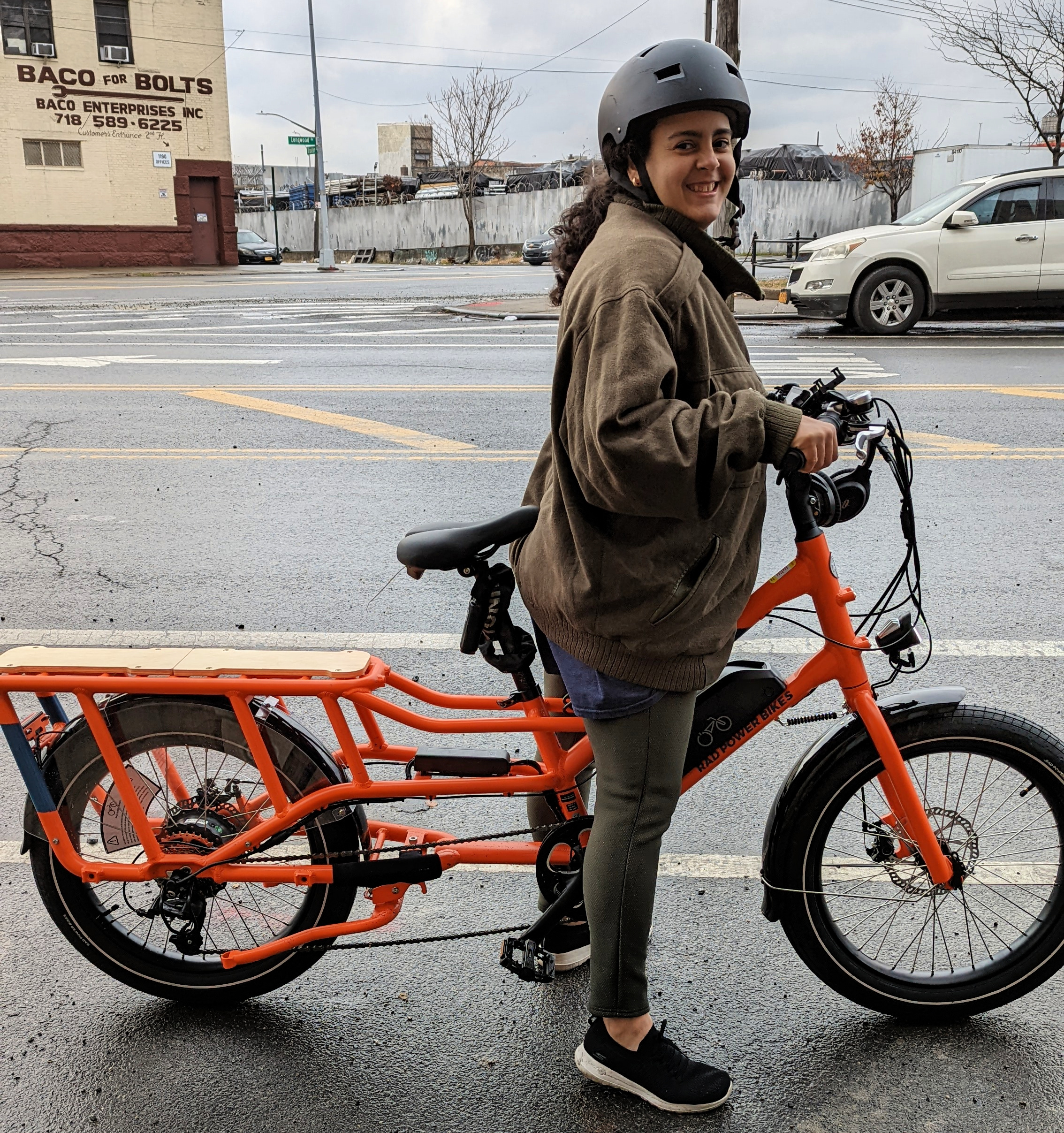 Pamela Martinez is a teacher's assistant here in The Bronx and the Hunts Point Alliance for Children, and she was one of the first New Yorkers to receive an E-Bike and E-Bike Loan NYC through our partnership with the Equitable Commute Project (ECP). The ECP was developed at the height of the Covid-19 pandemic as a partnership between NYU Stern, the Hope Program, Electric Avenue, Transportation Alternatives, and us as the financing partner. Our mission is to create a healthier, more affordable, and greener commute for the one million+ NYC frontline workers.
Through our new E-Bike Loan NYC, employees can receive a loan of up to $2500 to use for a new E-Bike, which will also help them build their credit and savings – all with no minimum credit score requirement.
"I'd wanted an E-Bike for a long time! And my employer knew that I rode my old bike to work every day. But for me, not being from this country, I didn't have credit yet. However, I learned I could get the E-Bike Loan NYC through the Employee Opportunity Program from Spring Bank, and I could pay it back little by little. So I applied, and my loan was approved right away! Now I love riding my new E-Bike, especially because I have to carry so much back and forth every day," Pamela says.
If you bank with us, you know that we're so much more than just a bank – even though we are one of the best banks in NY! We're a community. And that's why we were so excited to work with Pamela. She takes care of the people around her: developing daily science experiments and dance parties for the kids, collecting winter coats for donation on Giving Tuesday, and even ensuring that struggling families in the neighborhood get connected to the services they need.
"I love my job," says Pamela with a smile. "I love helping people. I love that we're doing good for kids, families, and the community. Hunts Point has a lot to give. You have to dig and find the resources – and that's what we do for these families."
Ensuring that our customers and community are taken care of is always at the top of our minds. Therefore, we designed the application process for the E-Bike Loan NYC to be as smooth and straightforward as possible. Learn more about it here.
"Everyone at Spring Bank was so helpful!" Pamela says. "Because I went through my company, they had a lot of the information I needed. Everything else I could do by myself online – it was very easy."
Commuting by E-Bike is a good choice for more than just your wallet. It's often more reliable than public transportation. And as Pamela notes, it's also good for the environment, which means a healthier, greener future for her children and students.
"I ride my E-Bike everywhere now: to the beach, visit my family in Brooklyn, and even go to Costco with it! Everybody knows me as 'The Bike Lady' in the supermarket," she laughs.
We love to see it! 🙌🏽 🚴🏽
Ready to get an E-Bike of your own? Learn more about our E-Bike Loan NYC. If you're an NYC employer, check out how you can support the financial health of your employees with our Employee Opportunity Program, which includes the E-Bike Loan NYC. Find out more about the Equitable Commute Project. Finally, check out our personal savings and personal checking accounts. We're honored to serve the people of New York as one of the best banks in The Bronx, New York!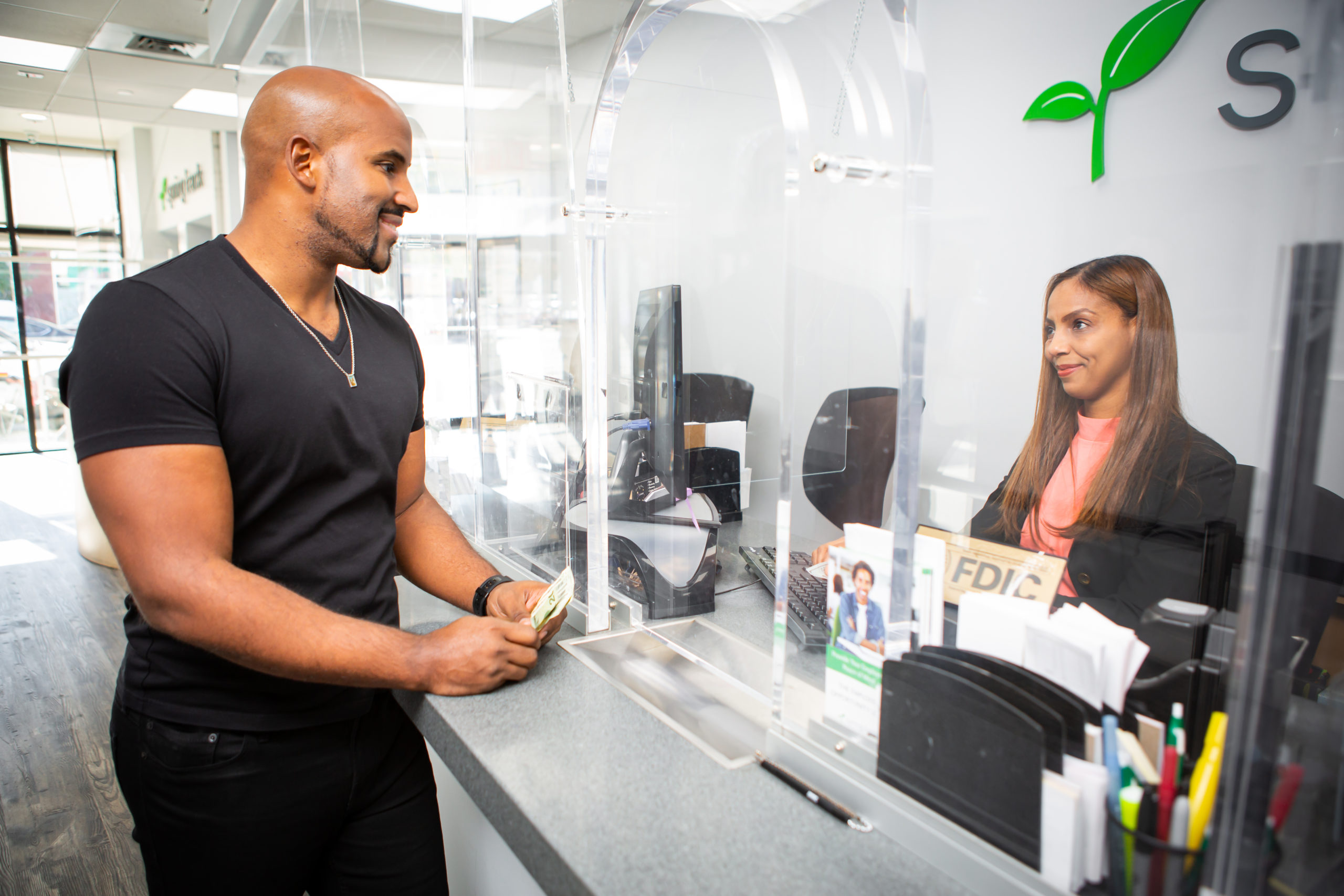 Here at Spring Bank, we're proud to be a B Corporation which means balancing purpose with profit. We are just as committed to serving our customers and helping the planet as we are to our bottom line.
With Earth Day coming, we thought it would be the perfect time to share a few ways that we can help you reduce your carbon footprint, starting with accessing your bank e-Statements online.
Whether you have a personal checking account, personal savings account, or a business checking account, enrolling in e-Statements makes banking easier—and greener—than ever! Here's how to get started:
Visit our home page and click on the toolbar in the upper left corner. Then, scroll down to select "Online Banking."
On the next screen, follow the directions, "Please click here to enroll in Online Banking."
And here's how to view your statements
Once you've created an account, click on the arrow next to the account you wish to view. When the drop-down box appears, select "Statement."
On the Documents page, click "View Statements."
Click on the e-Statement you wish to view. If you have a pop-up blocker, you may be redirected to a link called "Open the Statement Window now."
View your e-Statement! From this page, you can download, save, or print your statement and access it at any time.
With e-Statements, you can:
Reduce your waste and clutter. Paperless statements are the greener, cleaner way to keep necessary records, plus Earth Day is the perfect time for a spring cleaning.
Count on increased security—no more statements lost in the mail or accidentally mixed up in the neighbor's mailbox.
View your records anytime, anywhere. It's helpful to see your account and balances in real-time and in time for warm-weather fun. Also, download our app for easy banking on the go!
Being one of the best banks in NY means that we're dedicated to providing an experience that meets our customers' needs. So, in addition to being environmentally conscious, we also aim to make the NYC daily commute more manageable and more fun. How? The newest offering in our Employee Opportunity Program is The E-Bike Loan NYC!
The commuting challenges that workers in NYC have faced over the past two years have demonstrated that affordable, sustainable transportation alternatives – such as electric bikes – are critical for commuters and communities. We joined forces with the Equitable Commute Project and designed the E-Bike Loan NYC  so that more New Yorkers can save time, money, and stress in their daily commute.
Available to our partner employers through our Employee Opportunity Program, the E-Bike Loan NYC, offers up to $2,500 with no minimum credit score requirement.
"With biking, I don't have a problem with parking. I'm not worrying about gas prices or always filling up the tank. Plus, I'm doing my part for the environment so my kids can have a better future," says Pamela Martinez, recipient of the E-Bike Loan NYC.
Our mission is to use business as a force for good, so we hope you take advantage of these options to make life a little easier and a little greener this Earth Day. Want to learn more about what makes us one of the best banks in Bronx, New York? Check out our mission as an ethical bank, or visit one of our branches today!
In partnership with GreenPath Financial Wellness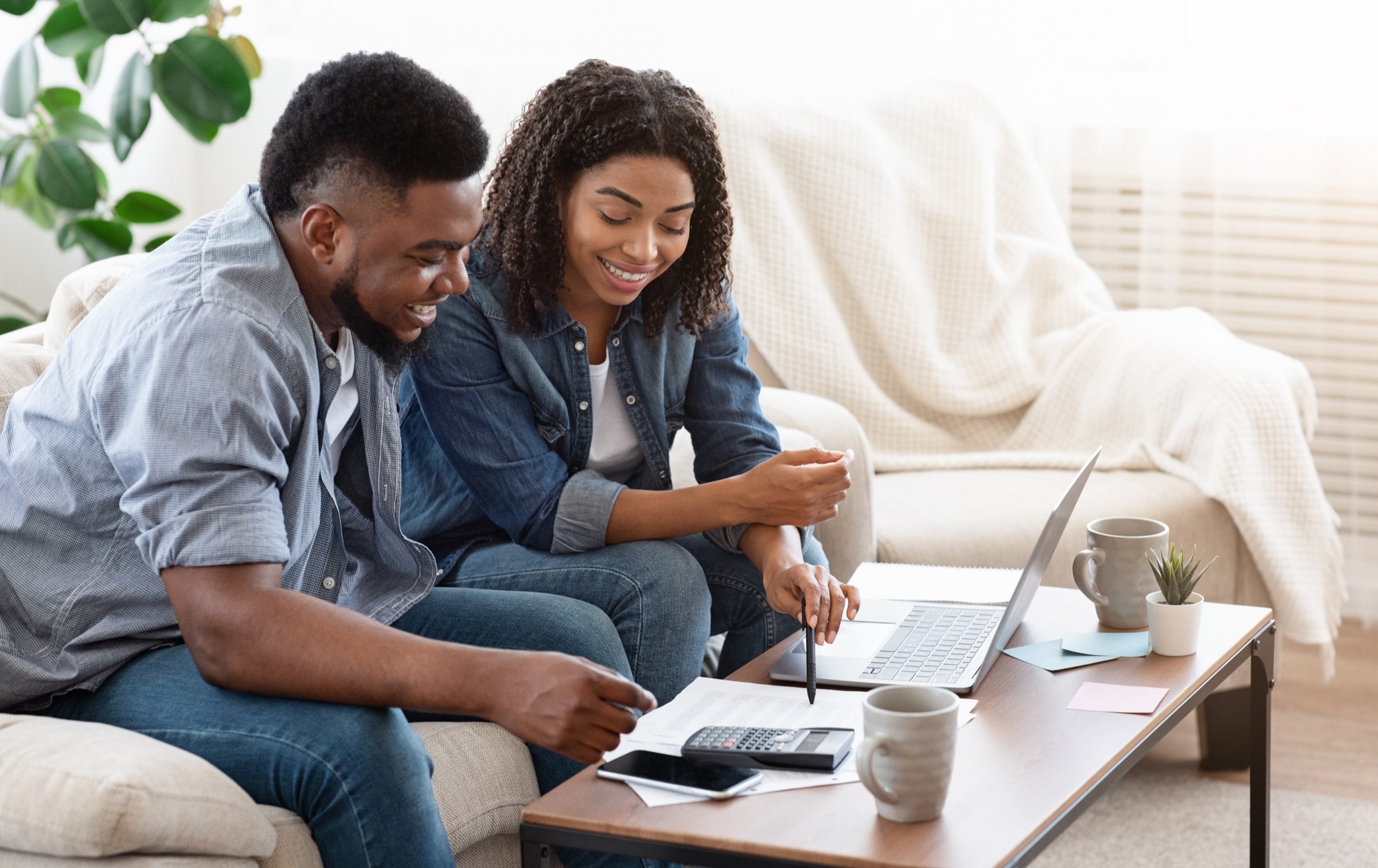 No matter your age or stage in life, it pays to know the facts about personal finances. You can set yourself up for success and build a healthy financial future when you understand the basics.
Here are three facts to know about personal savings and finances to get on the right track:
Fact #1 – Good Financial Habits Pay Off
Make it a habit to set aside money each month to meet short- and long-term goals. The significant savings goal is purchasing a home and eventually retirement for many of us. But people also save to build up an emergency fund or other personal savings, buy a new vehicle, pay for education, and more.
Making regular deposits, no matter how small, will add up over time—opening the best savings account online can help with that.
Besides setting aside money and ensuring your funds earn a competitive interest rate, the second most important habit is to control spending. By budgeting wisely, you not only set aside more money for potential savings, but you also develop spending habits that serve you in the long term.
Fact #2 – There's a Smart Way to Manage Debt 
It's helpful to understand the facts of managing debt wisely. For example, making only the minimum payment each month on a credit card extends how long it takes to wipe out your debt and adds to the amount of interest you pay. Minimum monthly payments can be a short-term approach to dealing with financial challenges — because you're keeping up on bills — however, making more than the minimum payment each month helps avoid digging yourself into a financial hole.
Suppose you've hit the maximum balance on credit cards, or run into issues keeping up with other debt. In that case, it's time to look at where your money is going and make a plan to change any habits that are not beneficial to your financial health, so you can start putting it towards your personal checking and personal savings accounts instead.
Everyone deserves the opportunity to build a prosperous and abundant future for their family and community. Apply for a personal loan with Spring Bank so that an unforeseen emergency like a car repair or health expense doesn't become a major disruption.
Fact #3 – You Don't Have to Go it Alone
There are times in life when you might need to get a handle on high credit card balances, understand options when facing financial challenges, or figure out how to get a healthier credit score.
Working one-on-one with a certified counselor is an excellent first step. Not only will the counselor help you understand your financial health, but they'll also help you to develop a customized plan for your unique situation.
The path is easier when you work with a trusted resource. An action plan that provides proven strategies can propel people toward financial health with confidence, whether you're looking to open a new business checking account or small business account.
As one of the best banks in NY, we partner with trusted national non-profit GreenPath Financial Wellness to help you better understand your financial picture and what steps to take to improve financial wellness. As a Spring Bank customer, you have access to free, confidential financial counseling sessions today! Learn more here: https://www.spring.bank/greenpath/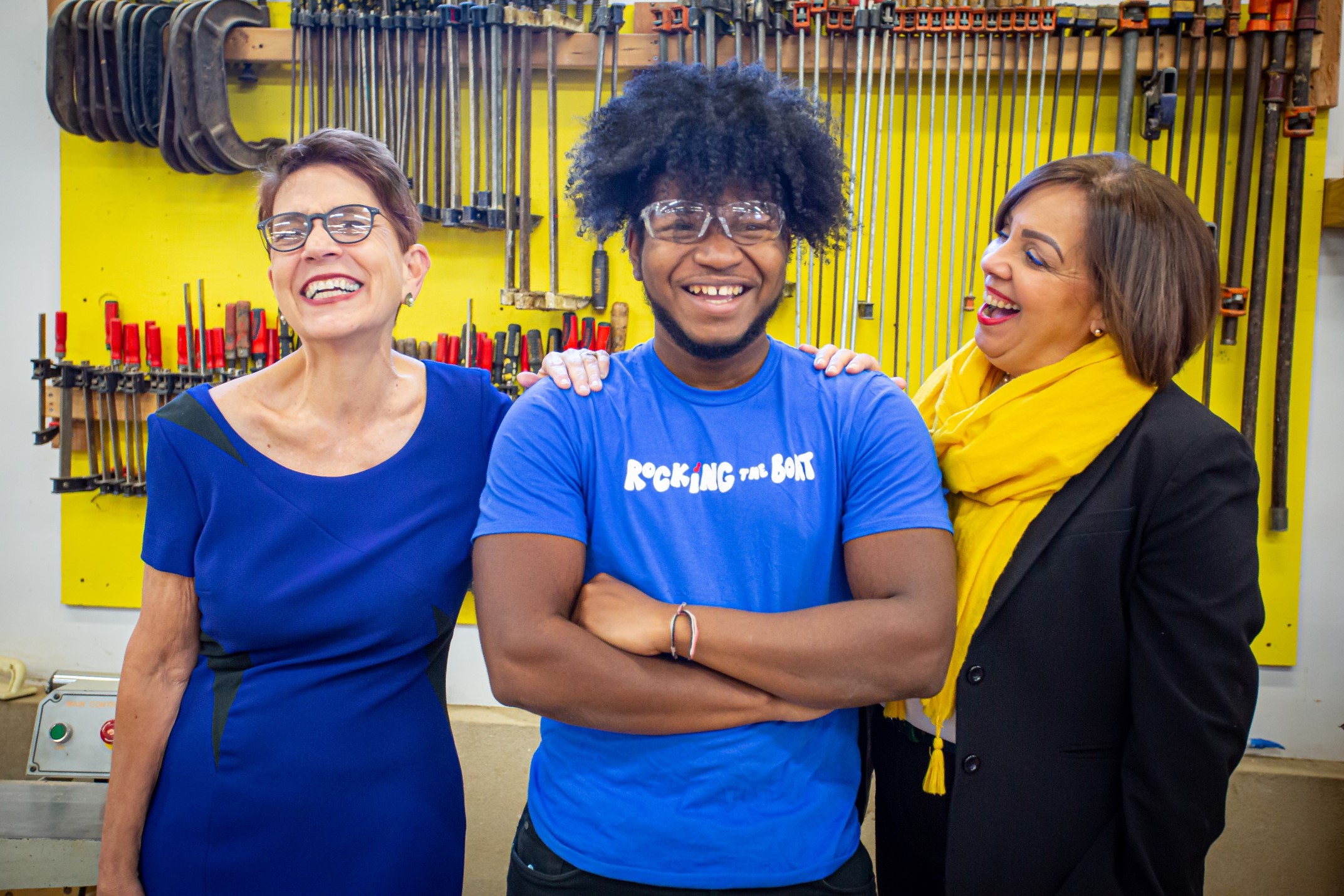 "You don't have to go anywhere or be anyone different to do extraordinary things. You can be an extraordinary person. Those capacities are already within you and already within your community. And the Bronx is a place where that's possible." – Adam Green, Executive Director of Rocking the Boat
We are proud to be a community bank in the Bronx, New York—especially since it means we get to partner with values-aligned community organizations like Rocking the Boat!
Rocking the Boat is a nonprofit that serves people of all ages right here on the Bronx River. We spoke with Adam Green, the Founder & Executive Director, about how they got started and what's coming up for the 2022 season.
In 1995, influenced by his experience teaching kids about the Hudson River aboard the Hudson River Sloop Clearwater, Adam developed a program that used the process of building and using wooden boats as a way to educate and empower young people from underserved communities. Adam realized that the Bronx River was a tremendous natural resource that held a lot of opportunities, especially for New Yorkers in the Hunts Point, Longwood, and Soundview communities.
"We're here because of the natural resources and because of the opportunity that those natural resources offer to the human resources—the people," says Adam.
Rocking the Boat offers public programs like free community rowing and youth development programs in boatbuilding, sailing, and environmental science. Participants explore the natural environment of the Bronx River, contribute to its restoration, and increase community access to it. They also go on sailing trips to explore other areas in or near the city. Through Rocking the Boat, participants develop valuable skills, have fun, gain self-confidence, and contribute to an inclusive community of students, apprentices, alumni, and staff.
An essential aspect of Rocking the Boat's impact is serving as a platform for young people to develop a sense of purpose and pride.
"It's that feeling that they can put their energy into something, actually get a result out of it, and know that that energy was worth applying. It reminds youth they have inherent value," says Adam.
Rocking the Boat also offers participants the support of licensed social workers for social and emotional needs. They help youth graduate from high school, apply to college, overcome obstacles to attaining a college degree and map out a path for reaching their long-term goals.
Young people learned about possibilities that they didn't know existed before their experience at Rocking the Boat – including internal growth opportunities. Adam beautifully sums it up:
"You don't have to go anywhere or be anyone different to do extraordinary things. You can be an extraordinary person. Those capacities are already within you and already within your community. And the Bronx is a place where that's possible."
We couldn't agree more! Rocking the Boat's 2022 season kicks off on March 7th, and there are still spots available — it's perfect for 9th & 10th graders looking to get their hands dirty and explore something new. Learn more and sign up here!
Learn more about Rocking the Boat. New to the city? Looking for a bank in NY? We've got you covered: check out our personal checking account & personal savings accounts. We're honored to serve New Yorkers by offering one of the best savings account online!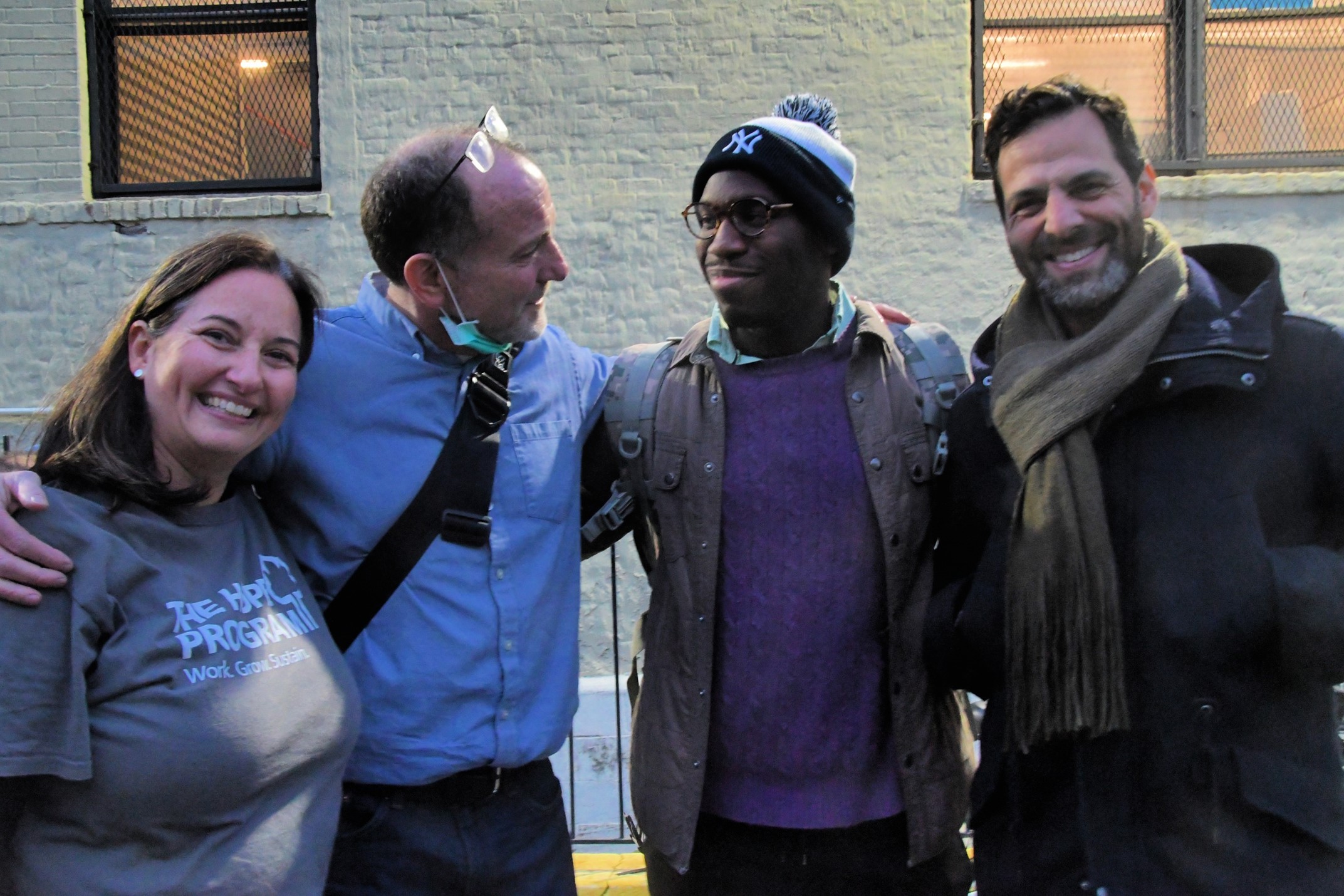 Did you know New York City still has "transportation deserts?" These are places across the five boroughs where public transport options are few and far between if they exist at all.  With over one million frontline workers commuting across the city daily — many of whom live in transportation deserts — it was easy for us to join the Equitable Commute Project (ECP), promoting sustainable transportation alternatives as the financing partner for electric bikes.
And our partners at The HOPE Program were also excited about the opportunity to play a part in providing transportation alternatives for workers who are often at a disadvantage.
HOPE empowers New Yorkers to build sustainable futures through comprehensive training, job placement, career advancement, and lifelong career support.
Because of their commitment to workforce development, the team at HOPE saw the opportunity to partner with employers to create access to affordable and reliable transportation.
Through the ECP, HOPE has an opportunity to develop a lithium-ion battery handling training program so that workers can learn how to repair the E-bikes that get distributed.
"We're a job training program, so we're excited about anything that helps people get to work and makes it easier and more lucrative to participate in," says Irene Branche, Chief Development and Evaluation Officer at The HOPE Program.  "If we can get a critical mass of employers to provide E-bikes to their employees, then it not only becomes an employee benefit, but then the employer can provide logistical support to make it easy," Irene adds.
Job retention is also a big priority for HOPE.  Their programs help New Yorkers aged 18+ who have barriers to the workforce.  Typically, this includes people who lack access or have little experience with financial planning using a personal checking and personal savings account and may have had experience with the criminal justice system, substance abuse, or homelessness.
Many reasons might cause an adult to struggle with entering or staying in the workforce.  So even without the added stresses of the pandemic, the team at HOPE knew that getting both NYC workers and employers excited about E-bikes would have a positive long-term impact.
"Between distance issues, cost issues, and even just waiting for the bus — nobody wants to commute like that.  So it just made a lot of sense to us," says Irene.
Employer investment in employee health and wellbeing has become a national focus, and the folks at HOPE and the Equitable Commute Project also recognize this trend.  A chief aim of the ECP is to prepare New Yorkers who face barriers to employment for jobs in the micromobility industry, expected to grow to a $300-500 billion market by 2030.
Additional opportunities for employees can include everything from providing designated parking spots for E-bikes to investing in E-bike charging docks, making the employee commuting experience as smooth and seamless as possible.
Like HOPE, we also know that employers have the power to provide their teams with affordable and reliable transportation.  As the financing partner of the ECP, we are excited to expand our Employee Opportunity Loan Program to include our E-Bike Loan NYC.  A loan of up to $2500 with no minimum credit score requirement, the E-Bike Loan NYC also helps your employees build their credit and strengthen their financial wellbeing.  And when you sign-up for the E-Bike Loan NYC, your organization automatically becomes part of our Employee Opportunity Loan Program and can access other financial benefits like free financial counseling.
Are you an employer in NYC?  Check out our Employee Opportunity Loan Program and learn how to provide affordable lending products to your workforce.  You can also check out our business checking account and open your new business bank account today!
Read about the Equitable Commute Project. Check out our upcoming E-Bike Loan.  Learn more about The HOPE Program.  Read about The E-Bike Revolution.  Join the conversation on Facebook and Instagram.  Find out what makes us one of the best banks in ny!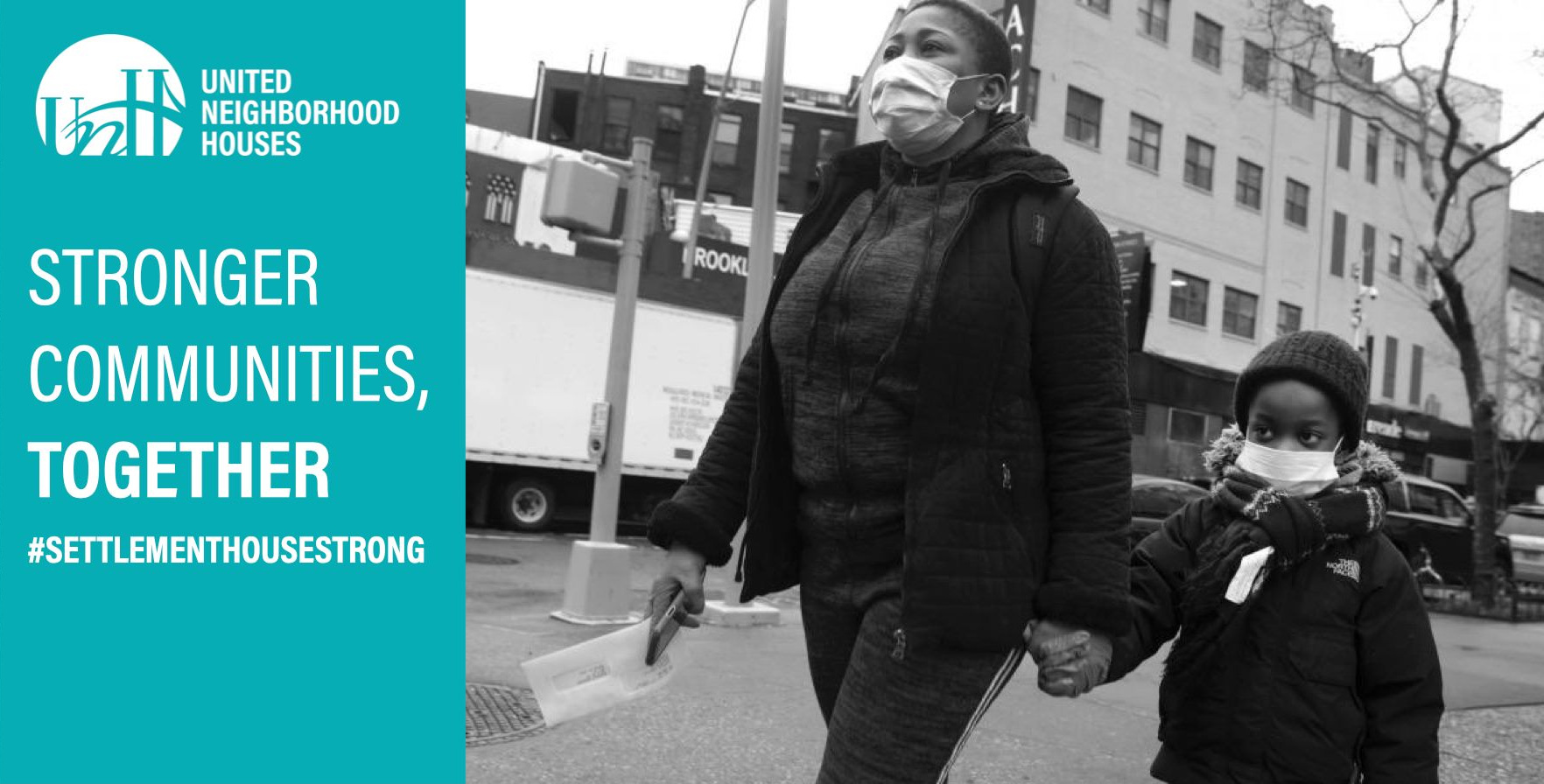 In pre-COVID times, settlement houses worked tirelessly to address inequalities in our communities by providing vital services that include housing assistance, meal delivery, job training, and mental health support. Now, in a pandemic crisis that has both exposed and exacerbated economic, racial, and gender inequality, our city has come to rely on their services more than ever. Thankfully, as they did over 100 years ago in our city's last pandemic, settlement houses have relied on the invaluable advocacy and support of United Neighborhood Houses (UNH) to carry out and improve their work.
Founded at the height of the Spanish flu of 1918-1919, United Neighborhood Houses, has been an organizer for the settlement house movement, working to create stronger communities and long-lasting social change. Today, they represent 45 settlement house member organizations that reach 765,000 New Yorkers annually. But what is a settlement house exactly?
"A settlement house is a nonprofit organization that offers services for all ages, but that also involves the community in its programming," explains Jennifer Weil, Director of External Relations at United Neighborhood Houses. "Settlement houses exist to build strong communities, meaning they offer intergenerational and volunteering programming that depends on community input and engagement. It's an attitude and approach rooted in reciprocity."
Sharing resources is at the core of what settlement houses do – and it's certainly at the center of what UNH does. For example, UNH brings settlement houses together to create forums where members can share their knowledge and expertise to improve their services and practices and advocate for better policies for their communities. And, in the early fog of the pandemic, UNH provided a space to bring people together for clarity and support.
"At the height of the pandemic, we organized hundreds of virtual gatherings so our members could share their experiences and any useful information they learned along the way," says Jennifer. "Our peer groups took on a new urgency as this was a crisis none of us had ever experienced in our lifetimes."
One program some settlement houses recommended was our very own Employee Opportunity Loan Program. Our EOL program allows participating small businesses to provide their employees with access to small-dollar loans­ and free financial counseling. In normal times, we offer this program for companies looking to help their employees build personal savings and credit for the future. However, in an economic crisis where settlement houses were forced to furlough employees, our EOL was a lifeline, helping small businesses retain employees and helping employees bridge immediate gaps in cash flow.
"Our members that have used the Employee Opportunity Loan program can't stop raving about it," says Angela Perry, Director of Member Services. "We've already had seven of our members participate in the program. We are so proud to have played a role in helping our members access the information they need to navigate this pandemic."
We are so lucky to have partners who connect their clients to their local community bank in New York and who share our commitment to supporting mission-driven organizations. As our city continues to recover from this pandemic, UNH's mission to build resilient New York neighborhoods is more crucial than ever. That's why we invite you to join their virtual benefit event, New Yorkers Who Make a Difference, on October 25th at 6:30 pm. You won't regret it.
Learn more about our personal savings account, personal checking account, and small business accounts on our website. We also invite you to see how settlement houses put their mission into action by reading our blog on BronxWorks. Let's work together to make our city stronger.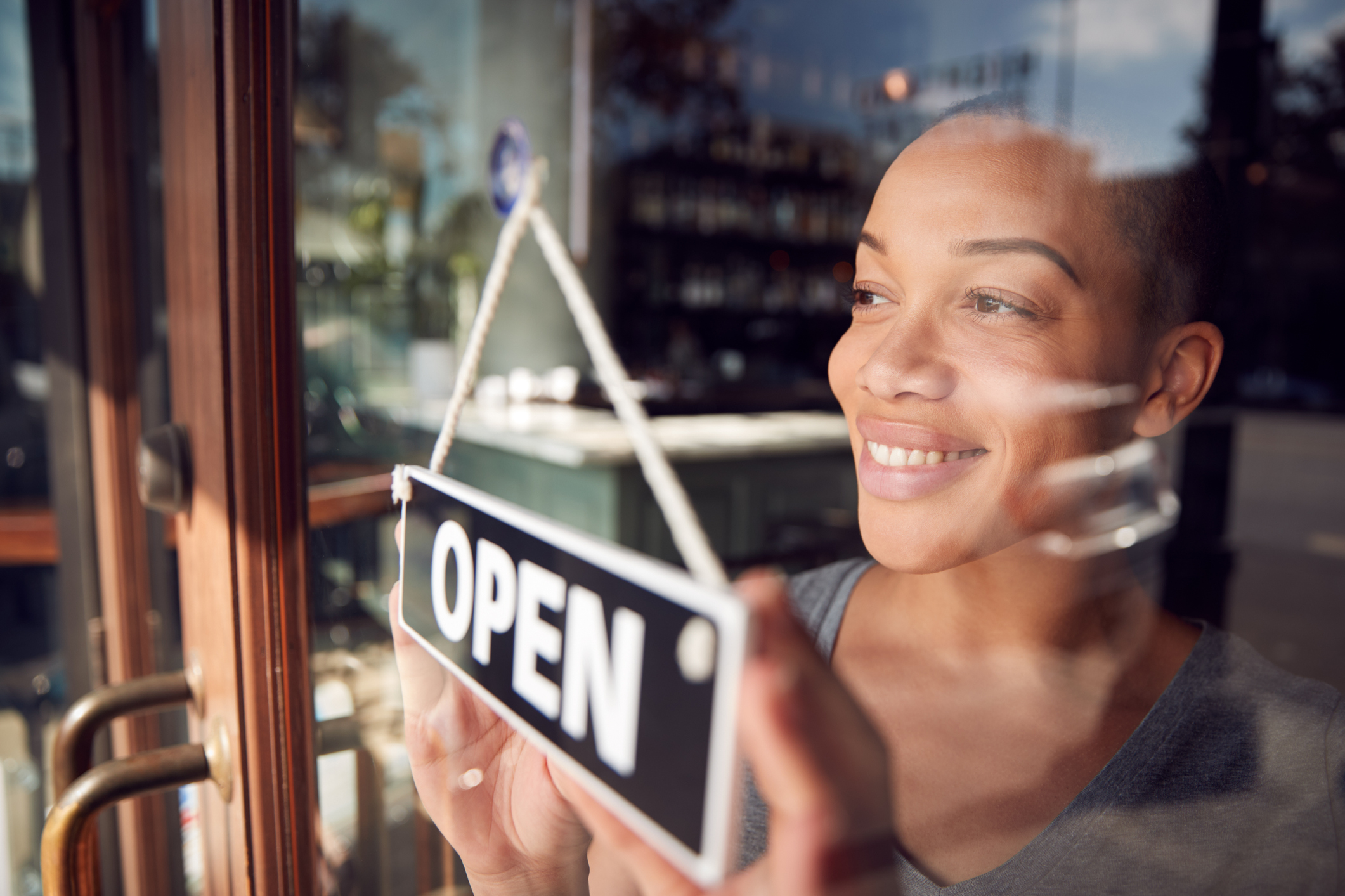 We are more than a local bank: we are a Community Development Financial Institution or CDFI. CDFIs work to create wealth-building opportunities for economically distressed communities across the United States. But to carry out our work, we need access to affordable capital that we can lend in our communities. That's where The Federal Home Loan Bank of New York (FHLBNY) comes in.
Founded at the height of the Great Depression, the FHLBNY is part of a national network of 11 Federal Home Loan Banks that exist to advance housing and community development. With over 6,800 member institutions that range from commercial banks to credit unions to insurance companies, Federal Home Loan Banks give their members a flexible credit liquidity source to grow and prosper. We are proud to be members of the Federal Home Loan Bank of New York that has supported our work as a CDFI.
"CDFIs help underbanked communities secure home mortgages and other forms of lending," explains Michael A. Beifeld, First Officer Relationship Manager of the Federal Home Loan Bank of New York. "As a financial institution that exists to support housing opportunities and community development, we knew that partnering with CDFIs was a no-brainer. That's why we have accepted them as members since 2010."
When the pandemic hit, it became clear that it had a disproportionate impact on low-wealth majority-minority communities. CDFIs stepped up to provide crucial financial support in their communities. And the government noticed. In the latest two COVID-19 relief bills, Congress set aside over $20 billion in funding for CDFIs and Minority Depository Institutions (MDI) to help the most negatively impacted communities recover from this crisis.
Throughout the pandemic, we have gone out of our way to support small businesses and nonprofits. We prioritized them because we know they are pillars in our communities, despite being ignored by larger financial institutions. Just in 2020, we secured PPP Loans for 53 nonprofits valued at $35 million. Like us, the Federal Home Loan Bank of New York recognized the challenges faced by nonprofits.
"Nonprofits typically only have three months to raise money via galas and events," says Mr. Beifeld. "Because of COVID-19, many nonprofits could not raise money to carry out their most basic functions. Seeing the need that there was, we established grant programs for nonprofits."
We are proud to have taken part in one of those programs: The Small Business Grant Recovery Program. The Small Business Grant Recovery Program offers participating members up to $100,000 in funds to allocate to their small business and nonprofit partners as grants.  In line with our work as a CDFI, we were able to secure a $100,000 grant, allocating $10,000 each, for ten of our nonprofit neighbors.
To learn more about our involvement with the Small Business Recovery Grant Program and the nonprofits we supported, check out our article on it here. You can also read more about CDFIs and their impact on our blog.