Business Checking
Account
Interested in more information about our Business Checking Products? Please fill out the form below and we will contact you.
Let Us Help You Grow Your Business
Help Your Business Grow Today. Since 2007, we have helped hundreds of businesses and nonprofits launch and grow. We emphasize personal attention and convenience to help your business thrive.
Automate your business by using Autobooks, our built-in accounting and book-keeping solution. Accept card payments, send digital invoices, and access your earnings straight from your checking account.
At Spring Bank, we make it fast and easy to open a business checking account. Learn more below and find the best business checking account for you:
Getting Started is Fast and Simple
There's nothing better than helping a business get off the ground. That's why we've made the account set-up process as simple and easy as possible. Call us at 718-879-5000 to schedule time with an associate either at our branch or at your workplace. They can guide you through our menu of business account options so you can find the best one for you.
Fully Insured Deposits at Spring Bank
Spring Bank is an FDIC-insured bank, so you can rest assured that all deposits up to $250,000 are fully covered by the FDIC.
If you wish to make a deposit larger than the FDIC insured amount, we have options for checking, CDs, and money market accounts that can cover multi-million-dollar deposits through the IntraFi network.
Schedule an Appointment
We're ready to help you reach your financial goals. Fill out the form below to set up a time to hear about our menu of banking options, including for retirement planning, for your small business, or for your personal banking needs.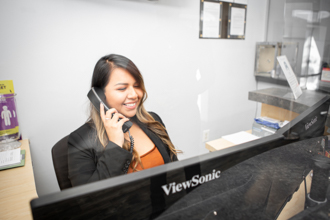 All-inclusive commercial checking account packages
Opening a nonprofit bank account will give you all these amazing benefits and services:
Personalized Service
At Spring Bank, you are a lot more than a number. You are the community in community banking and that is why personalized customer service is our mission.
Mobile Deposit
Deposit on the go. With our mobile deposit app, you can deposit checks securely from your mobile phone or tablet.
Spring Bank Mobile App
The Spring Bank mobile app puts all our banking services right at your fingertips.
E-Statements
Going green can be good for the environment and your wallet.
Free ATM
Our free ATM options are extensive. They include the MoneyPass networks and thanks to a partnership with Citibank, any Citibank branch ATM.
Telephone Banking
Anything you need to know about your bank account is just a phone call away.
Online Banking
Simple and Fast. Online banking gives you the ability to manage money online with your mobile device or computer.
Remote Deposit Capture
Local banking becomes a snap when your business signs up for our RDC program. Businesses throughout the city can take advantage of Spring Bank's cost savings and services without having to visit a branch.
Our Promise
At Spring Bank, we pledge to never treat you like you're a number. Banking with us means that you will always have direct access to our associates, whether it's account managers, financial planners, or loan officers. This is banking, family-style.