A Recent Feature of Josefa Ruiz, our Branch Manager, in Independent Banker.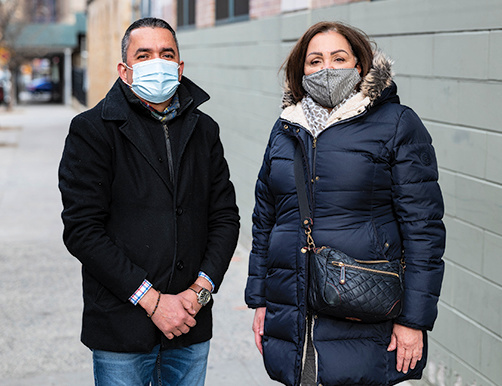 We take great pride in being headquartered in a city built and powered by immigrants. Nearly 40 percent of New York City's residents are foreign-born. Immigrants not only power our city's economy, and they are the lifeblood of our city's culture and dynamism. From the food we eat to the music we listen to, immigrant contributions are everywhere we look. And yet–despite their indelible imprint on our city– many immigrants have a hard time accessing the financial tools essential to building wealth and sustaining thriving committees.
Typically, when immigrants come to the United States, they are brand new to the American financial system, making it difficult for immigrants to open bank accounts, apply for loans, or rent apartments. These barriers often prevent immigrants from accessing the services they need to make this country home. As a bank with many immigrant neighbors and staff, we are doing our best to shift this narrative.
This month, Josefa Ruiz, our Branch Manager, was featured—alongside Carlos Herrera, a customer, and owner of 2300 Deli Corp–in an article by Independent Banker, "How Community Banks Serve Immigrants."
"Community banks like us provide a lot of value to immigrant communities," she says. "Unlike larger financial institutions, we take a chance on them. We see the value in them and their contributions, and we act on it."
We are proud to offer services tailored to the needs of immigrant New Yorkers. We accept IDNYC– a free-government-issued photo I.D. card available to all New York City residents, regardless of their immigration status–to open a bank account or apply for a personal loan. We also offer a credit-builder loan that helps accountholders establish a U.S. credit history.
Not only are our products immigrant inclusive; our staff is too. Both our Bronx and Harlem branches serve many Spanish speakers. That's why all of our frontline staff speaks Spanish, and our marketing materials appear in both Spanish and English. We do our best to make space for everyone. It's the New York City way.
"At Spring Bank, clients are not numbers. Here, I can dedicate my time to addressing the needs of each client. I can support them. At big banks, you are expected to produce, produce, which often means that money rather than people become the priority. But not at Spring Bank. Our clients are our priority, no matter where they are from," says Josefa.
The COVID-19 pandemic has hit our immigrant communities hard. Many of our foreign-born neighbors work essential jobs, don't qualify for government assistance, and are uninsured. The pandemic reminds us of immigrants' importance and contributions, and we want to pay it forward. Read more from Josefa in the Independent Banker feature and look for a small business story soon featuring Carlos and 2300 Deli Corp.