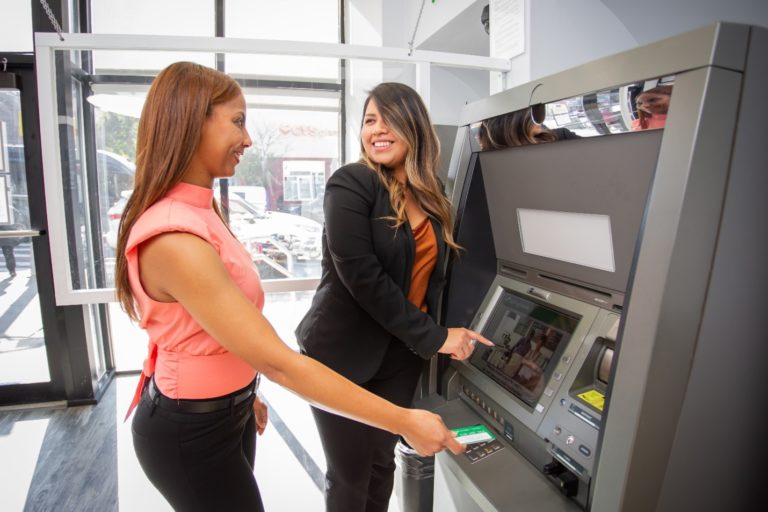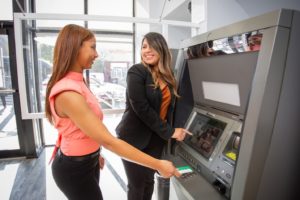 We'll always tout the benefits of having a healthy amount of money in a personal savings account. Still, since we all have to spend money every day, whether it's on groceries, gas, or life's other necessities, why not earn rewards for the money you have to spend?
Introducing Our ScoreCard Rewards Program
Make your money work harder for you with our ScoreCard Rewards Program. Earn points when you spend with your Spring Bank debit card and redeem them on the vast selection of rewards. From 4-star hotel stays to designer fashion and trendy appliances, there's something for everyone. So register your Scorecard account today to view your accrued points and treat yourself to all the perks your debit card can help you receive!
How It Works:
First, enroll your card to start accumulating points as you spend.
Make purchases with your Spring Bank debit card from either your personal checking account or business checking account as you usually would – both are eligible to earn and redeem points.
Earn 1 point for every $2 you spend with a signature or every $4 you spend using your PIN.
Redeem your points for travel, merchandise (like electronics, appliances, and more), or experiences like concerts and special events.
Ways to Earn Points Faster
Customers who hold multiple debit cards from their Spring Bank personal checking accounts or business checking accounts are welcome to combine points into a single rewards account. For business bank accounts, the business can earn points from all associated cards, though the owner is the only one who can claim rewards – all cards remain under the account owner's control.
Likewise, households can merge points. For example, if you and your spouse have Spring Bank debit cards connected to your personal checking accounts, you can combine points to earn rewards faster and redeem points for rewards!
We're offering 2,500 points as a special sign-on bonus to reward those who enroll in the program and use your debit card within 60 days of enrollment. Plus, any customer who signs up also gets 500 bonus points on their birthday!
Ready to upgrade your tech, book that bucket list trip, or dance to your favorite band at that sold-out concert? Register your card and start earning points today!
"I live at the bottom of a hill. With my old, non-electric bicycle, I used to push it up that hill, then again and again because my neighborhood has a lot of hills. I was practically pushing it all the way to work! But now I can enjoy the ride because of my new E-Bike and the E-Bike Loan NYC I received from Spring Bank." – Pamela Martinez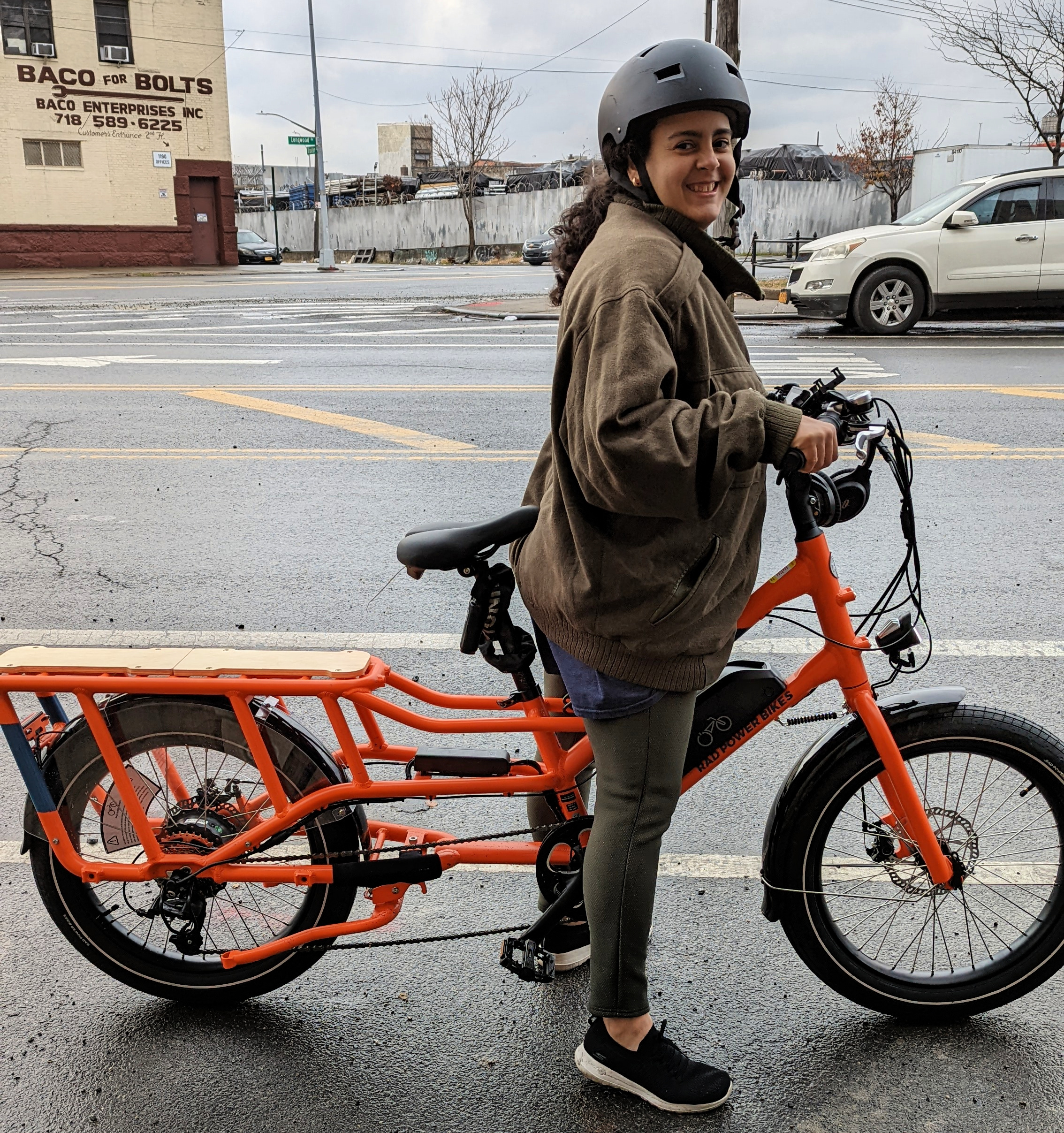 Pamela Martinez is a teacher's assistant here in The Bronx and the Hunts Point Alliance for Children, and she was one of the first New Yorkers to receive an E-Bike and E-Bike Loan NYC through our partnership with the Equitable Commute Project (ECP). The ECP was developed at the height of the Covid-19 pandemic as a partnership between NYU Stern, the Hope Program, Electric Avenue, Transportation Alternatives, and us as the financing partner. Our mission is to create a healthier, more affordable, and greener commute for the one million+ NYC frontline workers.
Through our new E-Bike Loan NYC, employees can receive a loan of up to $2500 to use for a new E-Bike, which will also help them build their credit and savings – all with no minimum credit score requirement.
"I'd wanted an E-Bike for a long time! And my employer knew that I rode my old bike to work every day. But for me, not being from this country, I didn't have credit yet. However, I learned I could get the E-Bike Loan NYC through the Employee Opportunity Program from Spring Bank, and I could pay it back little by little. So I applied, and my loan was approved right away! Now I love riding my new E-Bike, especially because I have to carry so much back and forth every day," Pamela says.
If you bank with us, you know that we're so much more than just a bank – even though we are one of the best banks in NY! We're a community. And that's why we were so excited to work with Pamela. She takes care of the people around her: developing daily science experiments and dance parties for the kids, collecting winter coats for donation on Giving Tuesday, and even ensuring that struggling families in the neighborhood get connected to the services they need.
"I love my job," says Pamela with a smile. "I love helping people. I love that we're doing good for kids, families, and the community. Hunts Point has a lot to give. You have to dig and find the resources – and that's what we do for these families."
Ensuring that our customers and community are taken care of is always at the top of our minds. Therefore, we designed the application process for the E-Bike Loan NYC to be as smooth and straightforward as possible. Learn more about it here.
"Everyone at Spring Bank was so helpful!" Pamela says. "Because I went through my company, they had a lot of the information I needed. Everything else I could do by myself online – it was very easy."
Commuting by E-Bike is a good choice for more than just your wallet. It's often more reliable than public transportation. And as Pamela notes, it's also good for the environment, which means a healthier, greener future for her children and students.
"I ride my E-Bike everywhere now: to the beach, visit my family in Brooklyn, and even go to Costco with it! Everybody knows me as 'The Bike Lady' in the supermarket," she laughs.
We love to see it! 🙌🏽 🚴🏽
Ready to get an E-Bike of your own? Learn more about our E-Bike Loan NYC. If you're an NYC employer, check out how you can support the financial health of your employees with our Employee Opportunity Program, which includes the E-Bike Loan NYC. Find out more about the Equitable Commute Project. Finally, check out our personal savings and personal checking accounts. We're honored to serve the people of New York as one of the best banks in The Bronx, New York!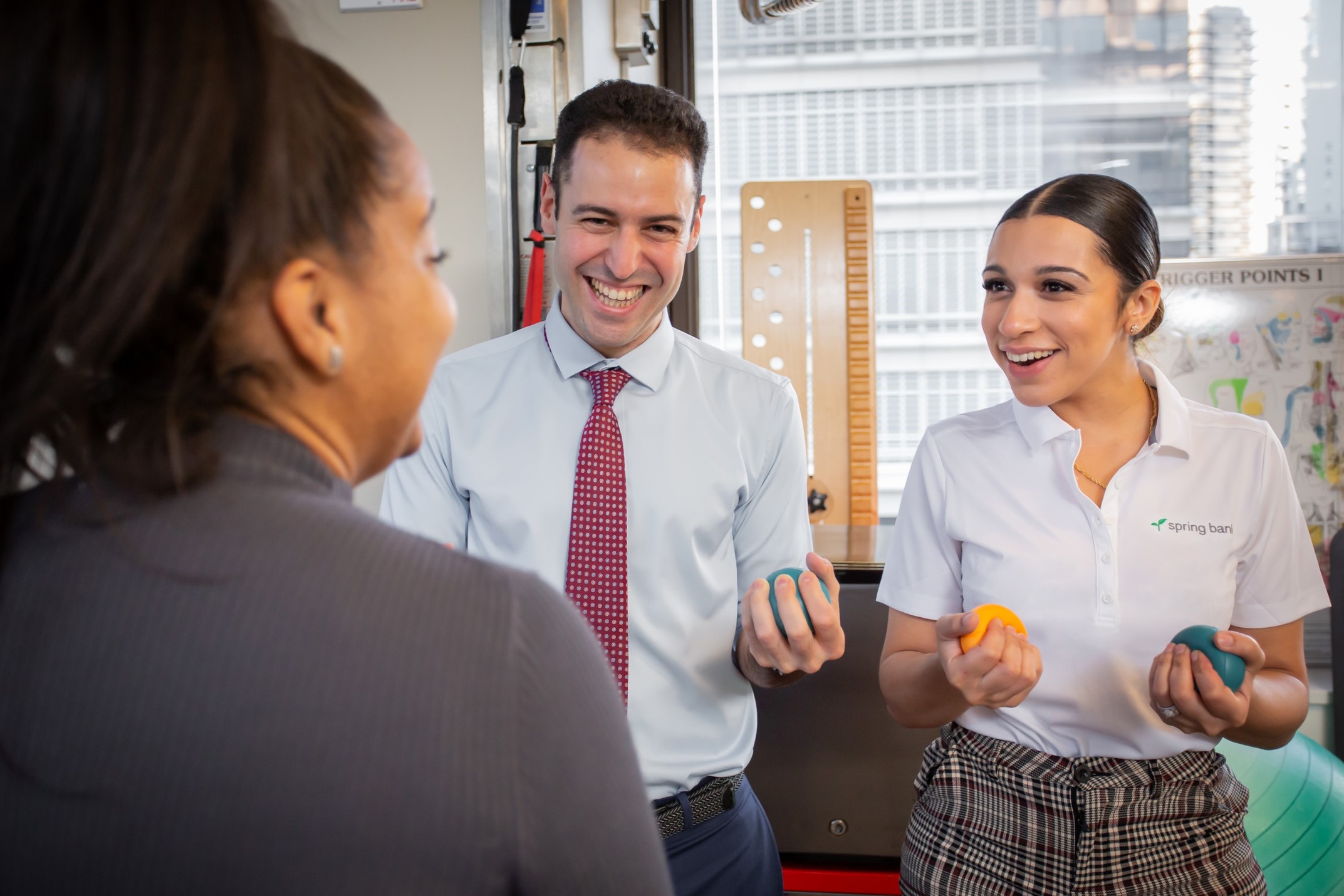 "There's someone who can relate to you here. Especially in this age of mega-corporations and automated processes, I think having a human experience with a financial institution is rare." – John Lakis, Loan Officer here at Spring Bank
We don't take it lightly that you trust us with your money. We love getting to know our customers and their families.
So if you bank with us, you already know that you're far from just another number here — and if you don't bank with us (yet!), you'll soon find that out. And just like we love getting to know you, we want to give you an opportunity to get to know us. So this week, we're pleased to introduce  John Lakis, our Loan Officer.
John started with us here at Spring Bank in 2015 as a Credit Analyst and has now been a Loan Officer, working primarily on the commercial side, processing real estate, SBA, and during the Covid-19 crisis, 100s of PPP  loans.
"It was part of our job at the beginning of the pandemic to call our clients and see how they were doing, making sure they could stay afloat, and seeing what we could do to help ease the burden," John says of his frontline pandemic experience. "I don't think there would be that level of personal care and interaction with any larger institution," he continues.
Of course, lots of banks tout their community-mindedness in glossy ad campaigns. But how do you really know if your bank is acting and investing in a way that reflects your values? You don't have to take our word for it.
We're a B Corporation, which means we have a triple bottom line of people, planet, and profit. So as New York City continues to recover and stride forward to an even greater future post-Covid, we look forward to helping our community build new businesses and reimagine existing ones. (Not sure where to start? Take a look at our small business accounts!)
"I don't think a megabank would guide someone through every step of the commercial loan process, from financing, city permitting and regulations, knowing what reports to read, or even teaching people how to look at them. Our bank is better positioned to offer those kinds of services. From startup to closing, our team here guides them through the entire process.
I know we've had an impact here in The Bronx. Numerous people have opened businesses in this neighborhood with the help of Spring Bank – and that's an amazing thing to be part of!" John says.
We couldn't agree more! We care deeply about the future of our neighbors and our neighborhood, and we're here to nurture your growth as an individual and as a business owner to build a prosperous future for you, your business, and your family.
And, as John shares, that ethos influences our internal culture, too:
"We're all helping each other grow. That's happened personally for me: I've seen my growth expand to new heights. And I've seen how I can help others grow, and I look forward to more team development together! After all, the main purpose of this bank is to help communities in need. So I'm totally on board with that!"
For us, it's all about having a human experience: staying flexible and innovative in the face of a constantly changing environment so we can help the people of our community truly thrive.
And nobody knows how to do that better than an immigrant. 🙌🏽
"People have shaped me, and others have been shaped by me, too. I come from a family of immigrants, and I would be letting them down if I were to come here to New York City and not work hard. So I committed to that when I joined Spring Bank, and it's a great place to do that," John says.
Thank you so much for sharing your incredible story and perspective, John! We are so grateful to have you as a core contributor to the Spring Bank team.
Are you interested in opening a new business bank account? Check out our business checking account here. New to the city and looking for banks in The Bronx, New York? Visit one of our branches today and find out what makes us one of the best banks in NY.
In partnership with GreenPath Financial Wellness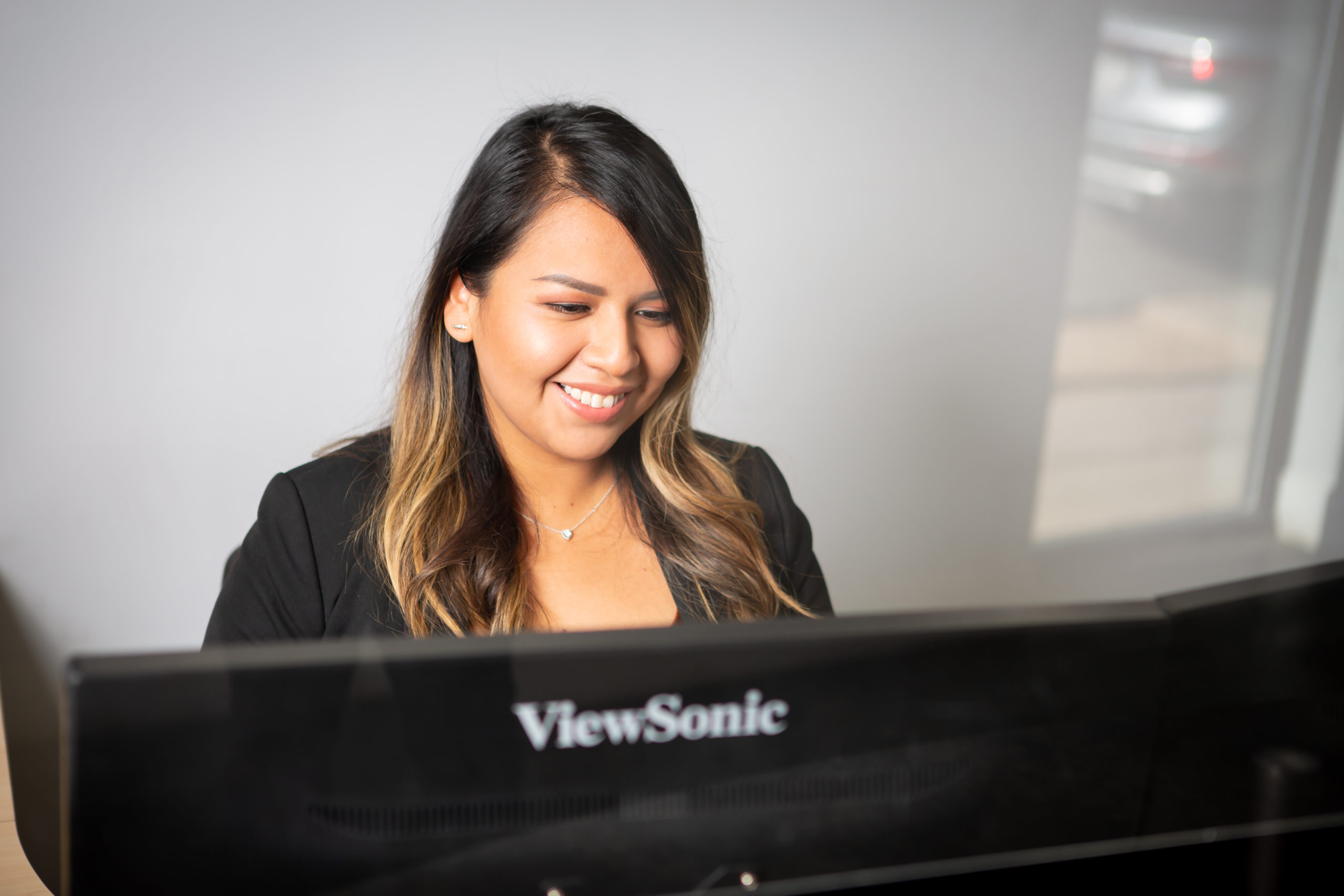 For many years, research has shown that women in the U.S. are approved for less than men when applying for credit products. Women are also more likely to have their applications denied. These facts may impact how and when women use credit compared to men. As a result, women often put applying for credit off – even when they want or need to build credit to maintain a healthy financial life.
These challenges become more complicated when combined with the fact that women are typically paid less than men, yet have household budgets similarly impacted by rising costs of living, inflation, and other market factors. Best practices with credit can help in many situations, such as when or how to apply for a personal loan.
Here are a few tips to jumpstart your relationship with credit — and we think they are helpful for everyone, regardless of gender identity!
Build a Healthy Credit History
A healthy financial foundation starts with having a credit history established in your name. If you don't qualify for a credit card on your own and someone in your family already has one, you can start as an authorized user on their credit card.
If that isn't an option for you, or you prefer to keep finances separate, another option is to get a Credit Builder Loan, like ours, in your name. Our Credit Builder Loan is a great way to build a healthy credit score. The loan proceeds are placed in a savings account to secure the loan. Then, each month we report your payments to the credit bureaus — this is what develops your credit score. After your final payment, you may continue to build your savings.
Review Your Credit Report
Regularly checking your credit report is another healthy financial habit. You can go to AnnualCreditReport.com to get a free credit report. This credit report shows all the information used to determine your credit score. Checking your credit report also allows you to be confident that the information in your credit report is accurate and up to date.
A good credit report can give you access to opportunities that might not be available otherwise. For example, people with higher scores receive offers with lower interest rates — that means more money staying in your pocket. It's also easier to apply for a personal loan, open a new business bank account, or get a business loan when your credit score is in good shape.
Improve Payment History
If you already have a credit history and know your score, pay attention to your payment history. Payment history is the most significant single factor used to calculate your credit score.
Late payments (even by a couple of days!), past-due accounts, and accounts in collections all harm your credit. Regular, on-time payment of the minimum amount owed or greater, will improve your credit score. An on-time payment history in the range of 18 months or longer will begin to show results in improving credit scores.
Monitor Your Credit Card Utilization
Simply put, credit utilization is a percentage. To determine that percentage, take the amount you owe and divide that number by the amount you are allowed to borrow – a.k.a. your credit limit. Credit utilization only refers to what you owe in terms of your personal credit limit, and you do not have to take your income into account when calculating it.
Here's an example: If your card balance is $600 and you have a spending limit of $2,500, your credit utilization is $600 divided by $2,500, which comes to 24%. As a rule of thumb, your credit utilization should be less than 30% for a healthy credit score.
Build a Foundation for Financial Wellness
Healthy credit history and scores are important for women and everyone — especially during challenging financial situations. Learn more about our Credit Builder Loan.
As one of the best banks in N.Y., we partner with GreenPath Financial Wellness so that our community can speak with certified financial counselors about how to use credit as a critical building block in their overall financial health and wellness. Call GreenPath at 866-692-2659 to book a free, confidential financial counseling session today!
"In this city, if you want it, you've got to go for it!" – Furkhunda Rizvi, Managing Director at MaxWell Health
As a community bank in Bronx, NY, we know that life in New York City is fast-paced and exciting! But it can also be stressful and take its toll on our minds and bodies. That's why we're so excited to share the story of MaxWell Medical, one of our small business clients.
MaxWell Medical is a state-of-the-art physiotherapy practice founded by the three Rizvi sisters with the vision that Relief is Within Reach. Furkhunda Rizvi, Managing Director, shares:
"What we do brings such positive energy into our culture because we make people feel better. We're in the business of healing."
For the three Rizvi sisters, the idea was manifested through the thoughtful collaboration and skill of their partners, Chris Lee, Cesar Salce & Olayinka Akisanya. Together they sought out talent to build their dream into reality.
"Everyone has lofty ideas when starting a business," Furkhunda says. "But we truly believe that the face we give to our patients is the same face we give each other. So we started by imagining a place where all co-workers are respected, with the result that everyone cares and feels the same sense of ownership in the company."
It's easy to see how building a positive, impactful work environment has paid dividends. MaxWell Medical has retained staff members since their first year of operations and even maintained their practice through the many obstacles that the Covid-19 pandemic presented.
"The pandemic has been a challenging chapter in our company's history," Furkhunda says. "We had to question the business we'd built and reshape the entire model."
Luckily, MaxWell Medical received a Paycheck Protection Program (PPP) loan they needed to continue business operations and develop an entirely new telehealth system to continue serving their patients.
"We couldn't believe the level of customer service and the attention we received from the team at Spring Bank. The PPP experience was a lifeline: we had someone walking us through every step and securing the money when promised. It made such a difference at a time when there seemed to be so much red tape, confusion, and doublespeak," shares Furkhunda.
Even as their business continued to transform and change into something new, the partners at MaxWell Medical stayed hopeful, committed to their values, and leaned into their team.
"Our business is reshaping. And I believe that we are going to come back even stronger having been able to overcome this last chapter," Furkhunda continues.
So, as part of the return to normalcy, MaxWell Medical has re-opened all locations. They understand the havoc the pandemic has caused from working remotely at our dining room tables to our makeshift work from home desk spaces. They are currently offering ergonomic assessments, evaluations for patients and new corporate workshop programs – so that the people of New York City can come back even stronger.
It's precisely that community-oriented mindset that we greatly appreciate at MaxWell Medical.
"As an immigrant that came into this country, I feel like I'm really part of something here. I don't think we could have done this anywhere else. In this city, if you want it, you have to go for it! We have a truly multicultural team that is a tapestry of New York. Between our patients, our staff, and our community, it's the story of America – and it's beautiful to be a part of it."
We couldn't agree more! Thank you to MaxWell Medical for allowing us to share your story and being part of the Spring Bank community.
As one of the best banks in NY, we're honored to serve the people of New York City. Learn more about our small business accounts & services, or open your new business bank account today. Visit one of our branches, or call us at 718-879-5000 to learn how we can help you build a prosperous future for you and your family.
The Newest Offering of Our Employee Opportunity Program
"The process is fintech-enabled, so participating is simple both for the employer and the borrower." – Melanie Stern, our Director of Consumer Lending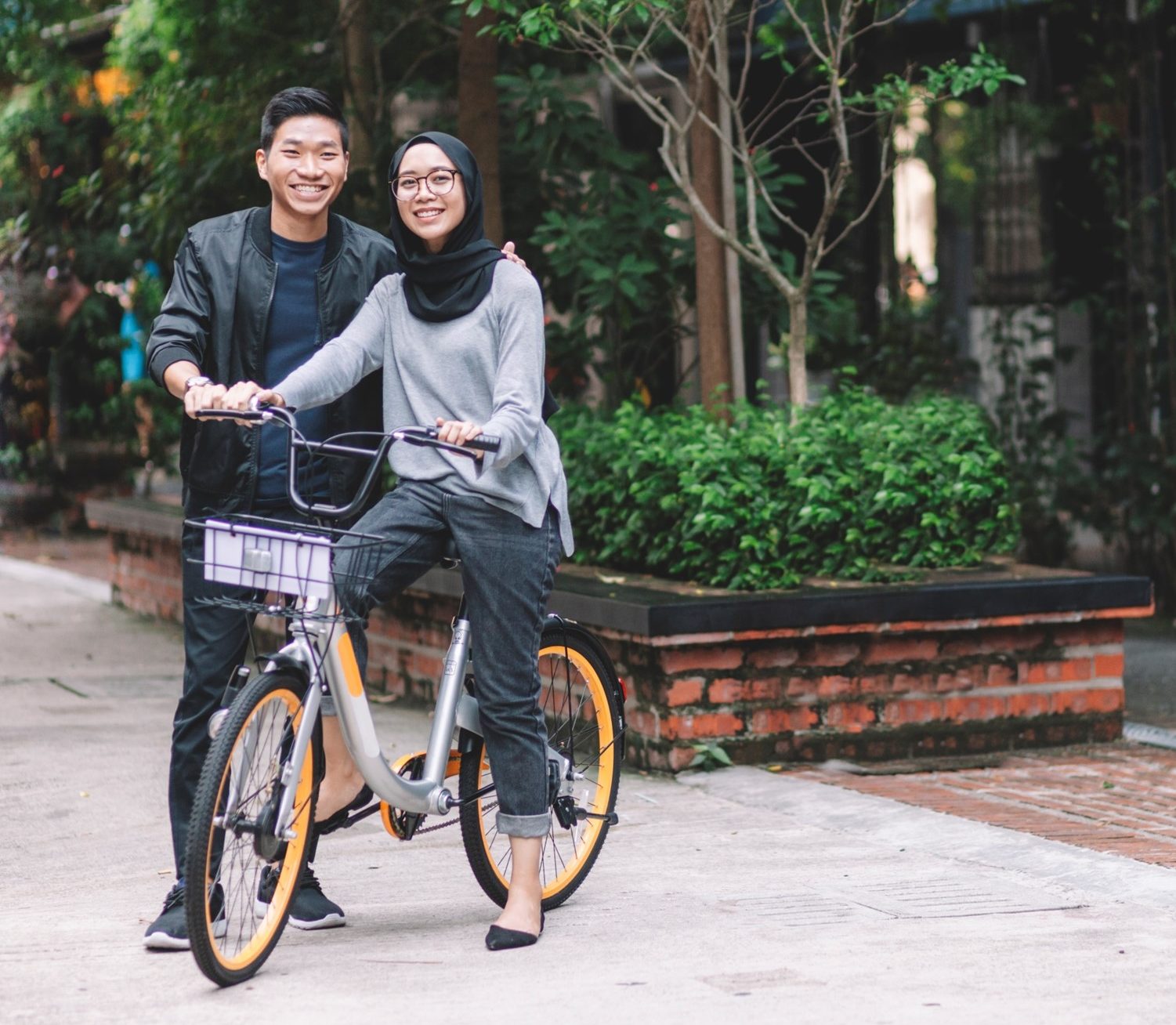 Offer Your Employees Reliable & Affordable Transportation

We are proud to support small businesses and their employees as one of the best community banks in NY! That's why we're so excited to introduce our newest benefit for your employees: The E-Bike Loan NYC.
The commuting challenges that workers in NYC have faced these past two years have demonstrated that affordable, sustainable transportation alternatives – such as electric bikes – are critical for commuters and communities. So we joined forces with the Equitable Commute Project and designed a loan product as an easy way for you to take care of and support your teams.
Save Your Employees Time, Money & Stress
As the newest addition to our Employee Opportunity Program, you can now connect your employees to the E-Bike Loan NYC, providing them with a reliable and affordable transportation option. Help your employees get to where they want to go as they commute day-to-day and support their financial journeys, too!
Up to $2500 with no minimum credit score requirement, the E-Bike Loan NYC also helps your employees build their credit and savings. The E-Bike Loan NYC is accessed and processed on our simple to use online platform.
We are partnering with several well-regarded NYC bike shops and one online seller who all have proven track records, sell reliable bikes, and offer employees discounts on bikes, equipment, and even servicing.
And when you sign-up for the E-Bike Loan NYC, your organization automatically becomes part of our nationally recognized Employee Opportunity Program. As our partner, your employees can access our Employee Opportunity Loan for up to $3,500 and get free financial counseling from GreenPath Financial Wellness. Employees start here, then choose to apply for a personal loan and connect to a counselor.
We're also making it easier than ever for employees to build personal savings by offering the option to automatically deposit an amount of their choosing directly into their Spring Bank savings account each pay period.
Plus, there are no minimum credit score requirements for any loan products in our Employee Opportunity Program. 🙌
Your employees can check out e-bikes and get rolling today with our E-Bike Loan NYC!
Learn more about the E-Bike Loan NYC. Spring Bank is the financing partner for the Equitable Commute Project (ECP), a group of community partners working toward bringing transportation justice to New York City by creating micro-mobility options for NYC workers. Read more about the ECP.
In partnership with GreenPath Financial Wellness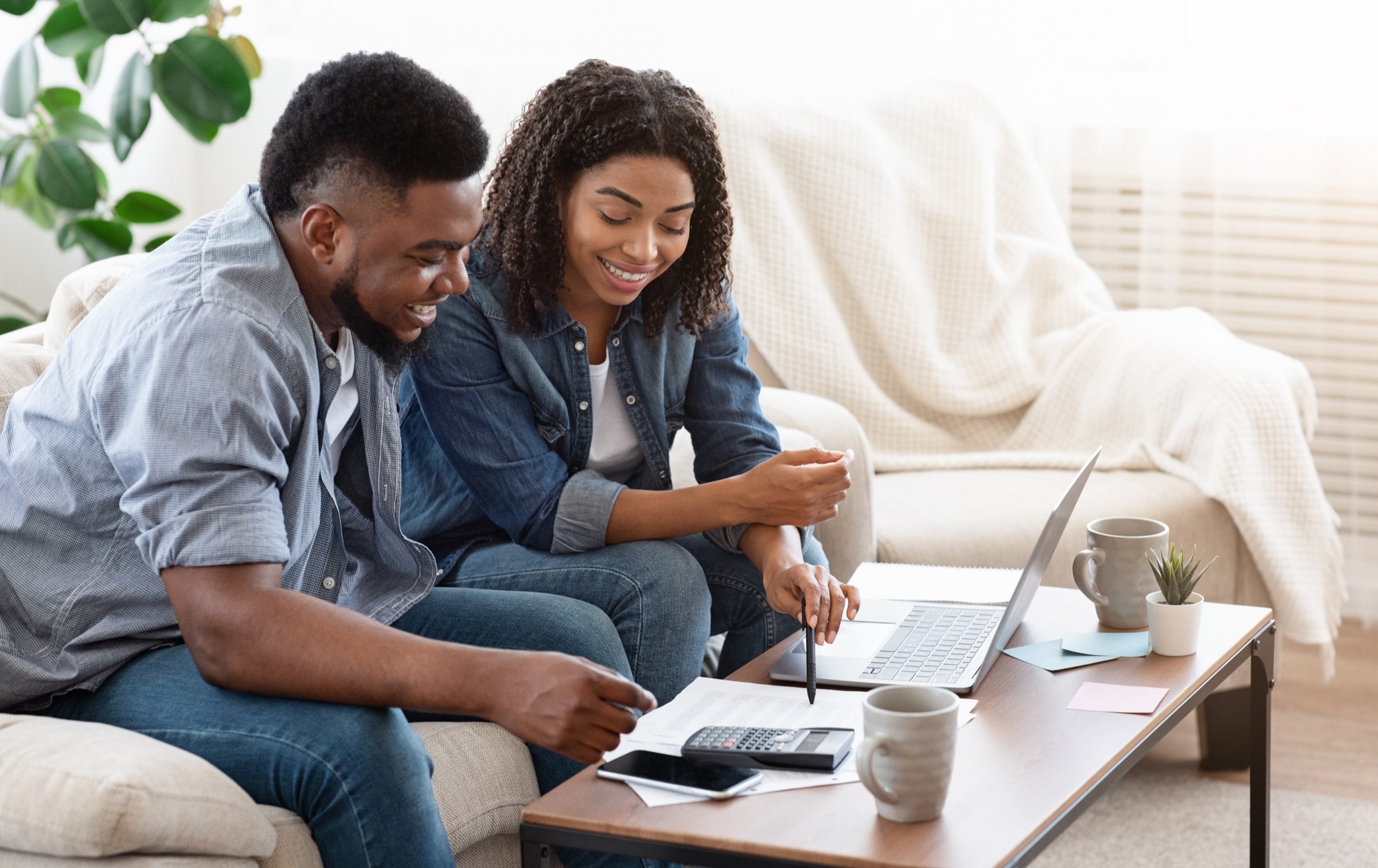 No matter your age or stage in life, it pays to know the facts about personal finances. You can set yourself up for success and build a healthy financial future when you understand the basics.
Here are three facts to know about personal savings and finances to get on the right track:
Fact #1 – Good Financial Habits Pay Off
Make it a habit to set aside money each month to meet short- and long-term goals. The significant savings goal is purchasing a home and eventually retirement for many of us. But people also save to build up an emergency fund or other personal savings, buy a new vehicle, pay for education, and more.
Making regular deposits, no matter how small, will add up over time—opening the best savings account online can help with that.
Besides setting aside money and ensuring your funds earn a competitive interest rate, the second most important habit is to control spending. By budgeting wisely, you not only set aside more money for potential savings, but you also develop spending habits that serve you in the long term.
Fact #2 – There's a Smart Way to Manage Debt 
It's helpful to understand the facts of managing debt wisely. For example, making only the minimum payment each month on a credit card extends how long it takes to wipe out your debt and adds to the amount of interest you pay. Minimum monthly payments can be a short-term approach to dealing with financial challenges — because you're keeping up on bills — however, making more than the minimum payment each month helps avoid digging yourself into a financial hole.
Suppose you've hit the maximum balance on credit cards, or run into issues keeping up with other debt. In that case, it's time to look at where your money is going and make a plan to change any habits that are not beneficial to your financial health, so you can start putting it towards your personal checking and personal savings accounts instead.
Everyone deserves the opportunity to build a prosperous and abundant future for their family and community. Apply for a personal loan with Spring Bank so that an unforeseen emergency like a car repair or health expense doesn't become a major disruption.
Fact #3 – You Don't Have to Go it Alone
There are times in life when you might need to get a handle on high credit card balances, understand options when facing financial challenges, or figure out how to get a healthier credit score.
Working one-on-one with a certified counselor is an excellent first step. Not only will the counselor help you understand your financial health, but they'll also help you to develop a customized plan for your unique situation.
The path is easier when you work with a trusted resource. An action plan that provides proven strategies can propel people toward financial health with confidence, whether you're looking to open a new business checking account or small business account.
As one of the best banks in NY, we partner with trusted national non-profit GreenPath Financial Wellness to help you better understand your financial picture and what steps to take to improve financial wellness. As a Spring Bank customer, you have access to free, confidential financial counseling sessions today! Learn more here: https://www.spring.bank/greenpath/
"It's very important, as a Bronx-based bank, to have a mission and continue to honor that mission. – Diana Ravagnan, BSA Officer at Spring Bank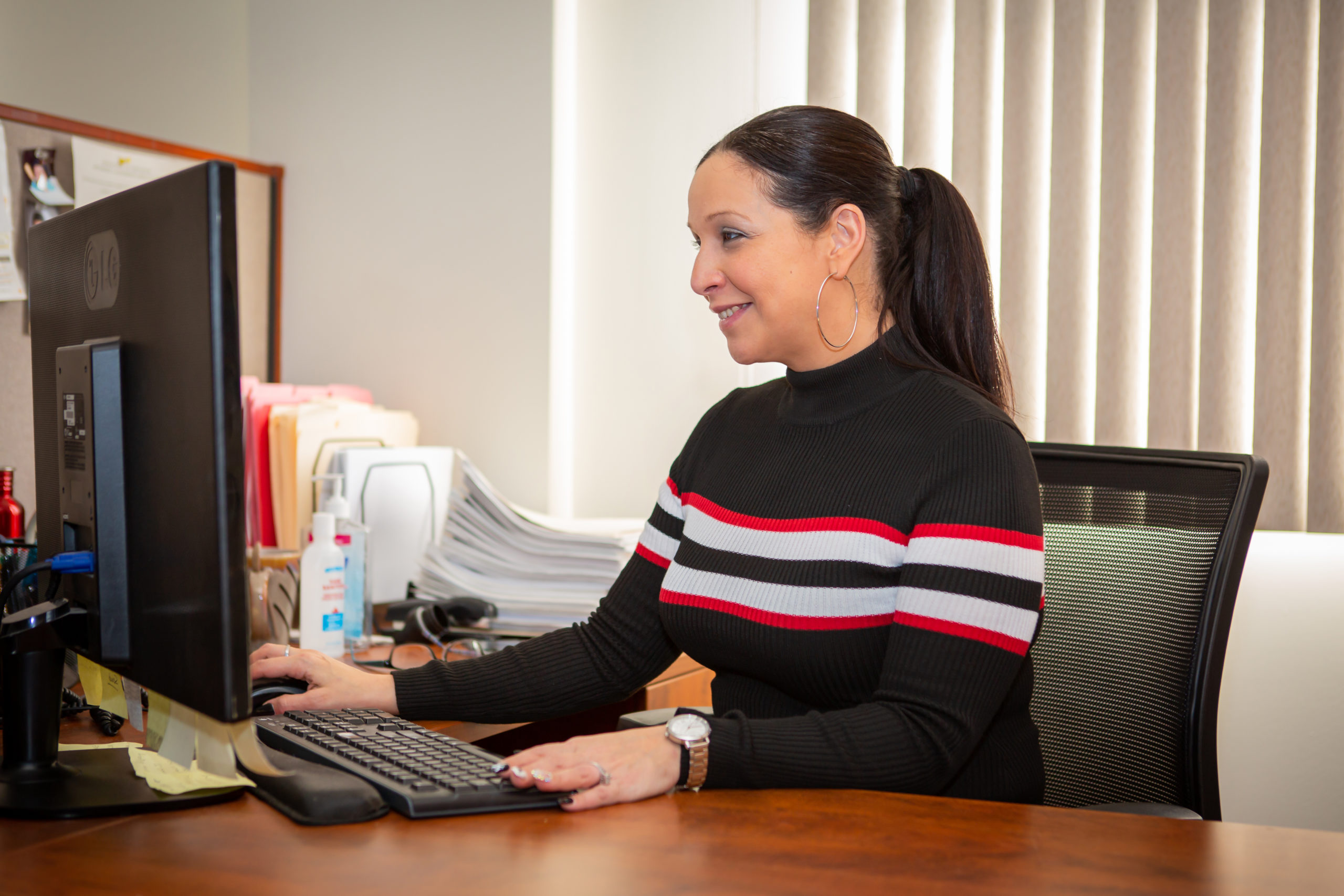 As a Community Development Financial Institution (CDFI), we're not just a bank. We are also a mission-driven business—even though we think we are one of the best banks in NY! The financial health and wellbeing of our community is our commitment—everyone from our customers to our staff—and when you step into one of our branches, you can feel it.
That's why we're excited to feature Diana Ravagnan, who has been an essential part of our team for 11 years! From Customer Service Representative to Assistant Manager now to BSA Officer, Diana has worn many hats. We are grateful for her continued commitment to the mission and how generously she shares her expertise.
BSA stands for Bank Secrecy Act, a critical component of running a bank and ensuring everyone's financial assets are safe. Diana is responsible for monitoring account activity and ensuring that we give back to the community while not contributing to the movement of funds for any illegal purposes.
"I've had to find a balance making sure that the bank is safe and at the same time not hurting our customer base because I care. These are people I used to sit down with and talk to and laugh with and ask them about their families," Diana shares. "At the same time, it's essential we safeguard the integrity of the bank."
Luckily, Diana manages to strike a work-life balance as a mother of three.
"Holding the BSA role at the bank, all while being a fully active mom, is a lot to manage, but is also very rewarding," she says.
After returning from maternity leave, Diana was offered a promotion as our BSA Officer. She has been a pillar of leadership, from mentoring her colleagues to managing her own personal development.
"I was very used to working directly with customers," Diana shares. "But when I took on this new compliance role, I was determined to become more confident and move beyond concerns like: 'I'm the only female in this room. Will they take me seriously?'
Additionally, Diana is strongly committed to our mission.
"It's very important, as a Bronx-based bank, to have a mission and continue to honor that mission, a mission we live by," Diana says. "Our community looks to us for financial literacy and education, and I'm proud to have helped so many people during my career."
We couldn't agree more. We exist to help our community build long-term wealth and prosperous futures, and team members like Diana are critical in bringing our mission to the incredible people of New York City. Thank you, Diana, for your hard work, continued dedication, and for your care for our customers and community!
Are you scoping out the banks in the Bronx and NYC? Visit one of our branches in the South Bronx or Harlem. You'll quickly experience our human-centered banking approach. Check out our personal checking account or personal savings account, which can help you repair credit and buy your first home. You can also check out one of the best savings accounts online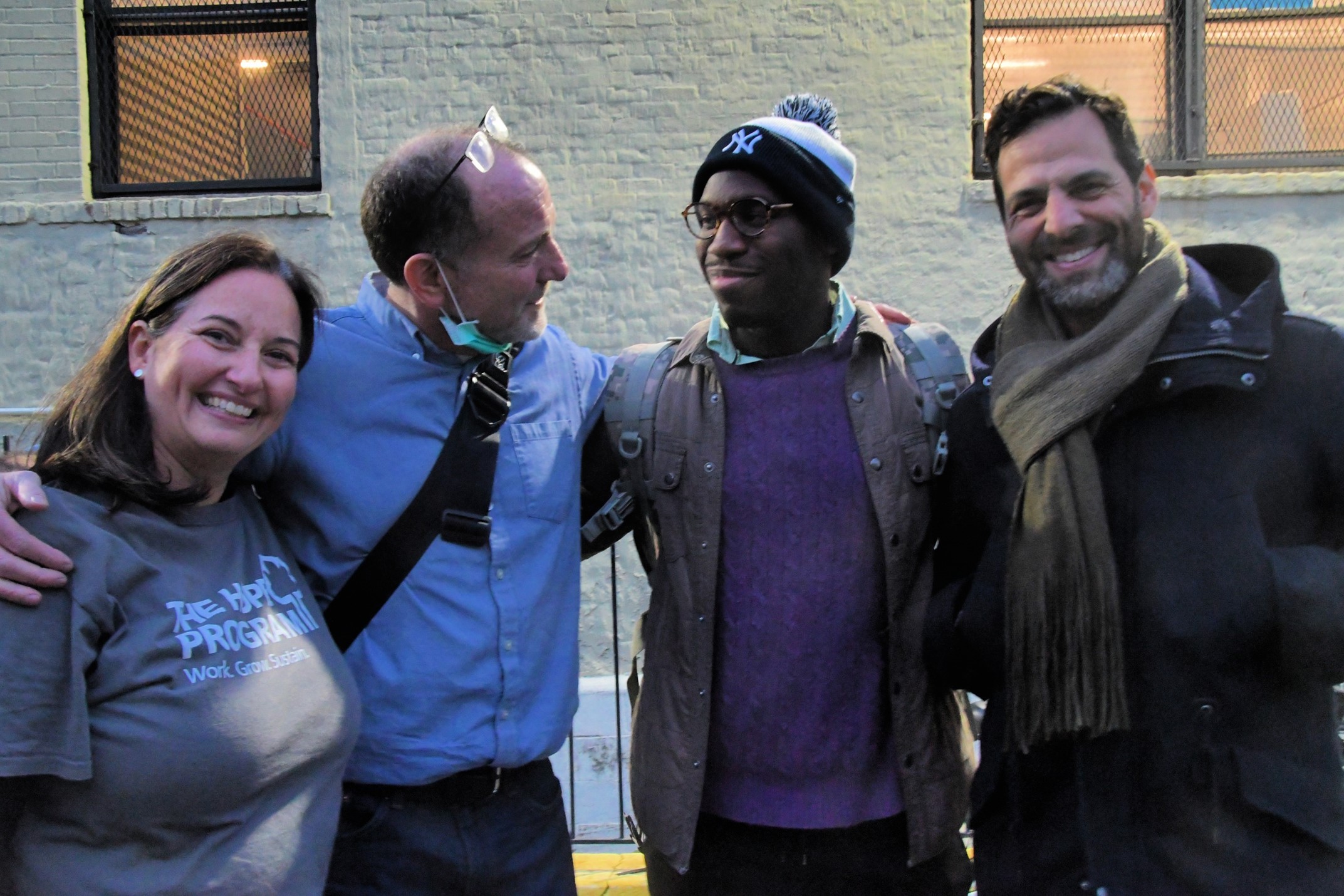 Did you know New York City still has "transportation deserts?" These are places across the five boroughs where public transport options are few and far between if they exist at all.  With over one million frontline workers commuting across the city daily — many of whom live in transportation deserts — it was easy for us to join the Equitable Commute Project (ECP), promoting sustainable transportation alternatives as the financing partner for electric bikes.
And our partners at The HOPE Program were also excited about the opportunity to play a part in providing transportation alternatives for workers who are often at a disadvantage.
HOPE empowers New Yorkers to build sustainable futures through comprehensive training, job placement, career advancement, and lifelong career support.
Because of their commitment to workforce development, the team at HOPE saw the opportunity to partner with employers to create access to affordable and reliable transportation.
Through the ECP, HOPE has an opportunity to develop a lithium-ion battery handling training program so that workers can learn how to repair the E-bikes that get distributed.
"We're a job training program, so we're excited about anything that helps people get to work and makes it easier and more lucrative to participate in," says Irene Branche, Chief Development and Evaluation Officer at The HOPE Program.  "If we can get a critical mass of employers to provide E-bikes to their employees, then it not only becomes an employee benefit, but then the employer can provide logistical support to make it easy," Irene adds.
Job retention is also a big priority for HOPE.  Their programs help New Yorkers aged 18+ who have barriers to the workforce.  Typically, this includes people who lack access or have little experience with financial planning using a personal checking and personal savings account and may have had experience with the criminal justice system, substance abuse, or homelessness.
Many reasons might cause an adult to struggle with entering or staying in the workforce.  So even without the added stresses of the pandemic, the team at HOPE knew that getting both NYC workers and employers excited about E-bikes would have a positive long-term impact.
"Between distance issues, cost issues, and even just waiting for the bus — nobody wants to commute like that.  So it just made a lot of sense to us," says Irene.
Employer investment in employee health and wellbeing has become a national focus, and the folks at HOPE and the Equitable Commute Project also recognize this trend.  A chief aim of the ECP is to prepare New Yorkers who face barriers to employment for jobs in the micromobility industry, expected to grow to a $300-500 billion market by 2030.
Additional opportunities for employees can include everything from providing designated parking spots for E-bikes to investing in E-bike charging docks, making the employee commuting experience as smooth and seamless as possible.
Like HOPE, we also know that employers have the power to provide their teams with affordable and reliable transportation.  As the financing partner of the ECP, we are excited to expand our Employee Opportunity Loan Program to include our E-Bike Loan NYC.  A loan of up to $2500 with no minimum credit score requirement, the E-Bike Loan NYC also helps your employees build their credit and strengthen their financial wellbeing.  And when you sign-up for the E-Bike Loan NYC, your organization automatically becomes part of our Employee Opportunity Loan Program and can access other financial benefits like free financial counseling.
Are you an employer in NYC?  Check out our Employee Opportunity Loan Program and learn how to provide affordable lending products to your workforce.  You can also check out our business checking account and open your new business bank account today!
Read about the Equitable Commute Project. Check out our upcoming E-Bike Loan.  Learn more about The HOPE Program.  Read about The E-Bike Revolution.  Join the conversation on Facebook and Instagram.  Find out what makes us one of the best banks in ny!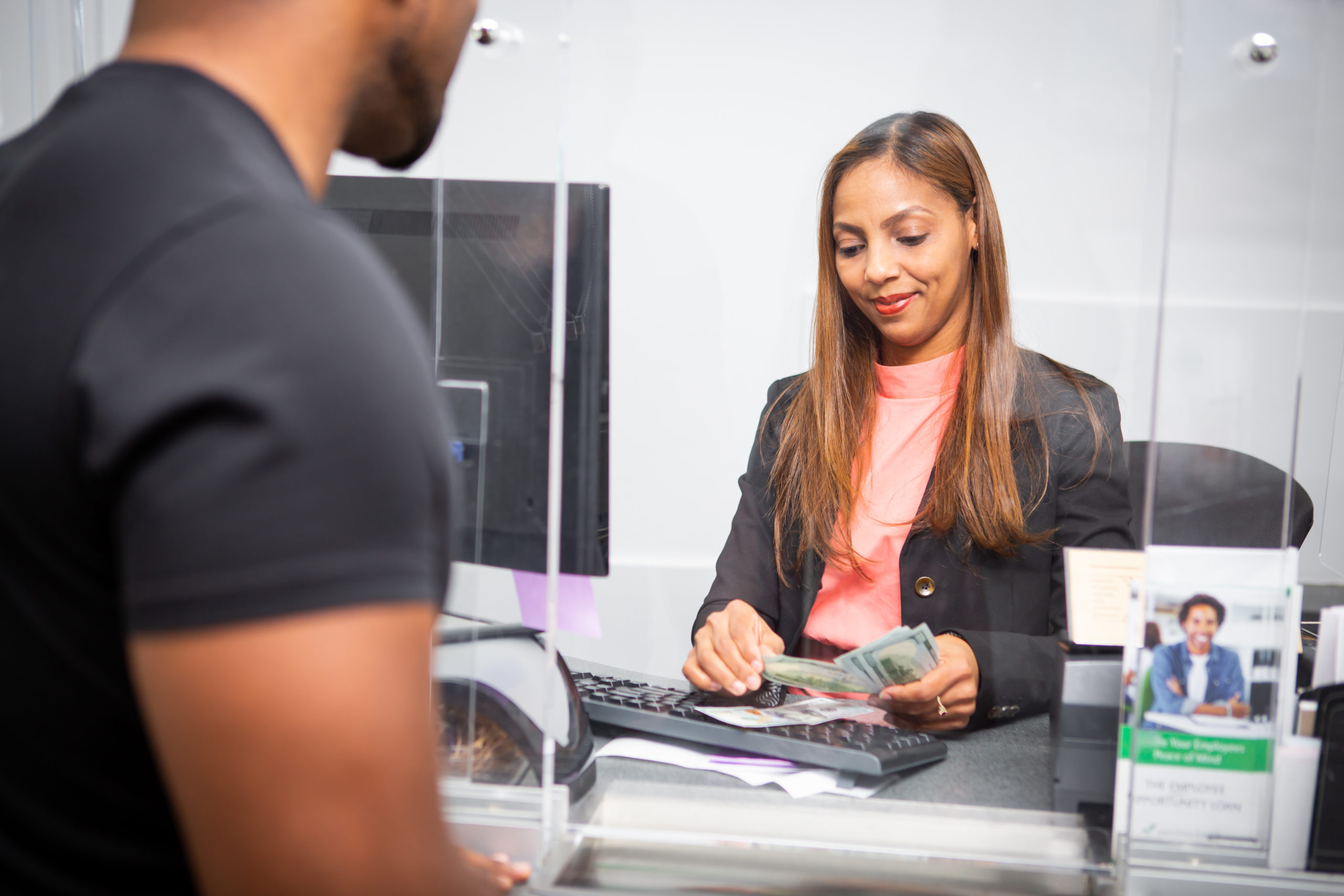 The New Year is a time for powerful new beginnings. It also presents an opportunity to look at our financial habits – and the impact on our personal checking and personal savings accounts. For example, carefully reviewing your credit card statements each month is a habit you may already have in place. As the year gets underway, it's an excellent time to reinforce healthy money habits that already work for you. It's also an opportunity to break old habits – like dipping into your savings to pay bills- and create new practices, like writing down financial goals or building personal savings.
Building positive money habits can affect your entire well-being. Here are a few ideas to try as the New Year gets underway:
Commit to a New Money Habit
Focus on one of your 2022 financial goals. Which actions do you need to take to get there? First, choose one new money habit you can quickly start to practice. For example, your financial goal might be to start saving more aggressively for your retirement, and the new habit might be a monthly check-in call with a financial counselor to hold you accountable. This action might seem small, but it's not. Practicing your new money habit puts your financial goals into action.
Set it and Forget It
You likely have many of your outgoing bills set to "automatic payment," a positive money habit. Setting up "auto pay" on monthly utilities, cable, and other bills allows you to be sure that bills are paid on time. Consider setting up "autosave" as well—getting started with one of the best savings accounts online can help!
If you set a goal to save for a big purchase, like the down payment for a car, automating monthly savings can help you achieve your goal. Set up automatic transfers or use direct deposit from your paycheck to automatically place funds in your goal account.
Spend with Every Dollar Accounted
Mindful spending is a powerful financial habit to build. If you don't already have one, make a habit of using a monthly spending or budgeting plan. You'll learn how much money you have to work with, the amount going out each month for bills and expenses, what you need to set aside for other bills and living expenses, and how much you can devote to your goal from each paycheck.
Make it simple. Tackle one habit at a time and celebrate your wins! The New Year is sure to be a success when you build one habit at a time and make it work for you! As one of the best banks in NY, our team is here to help you open a checking account, set up your personal savings account, and so much more. Not sure how to set financial goals? Check out 5 Ways to Make Money Resolutions Stick. And if you're a customer and ready to create new money habits, take advantage of free financial counseling with our partners at GreenPath.