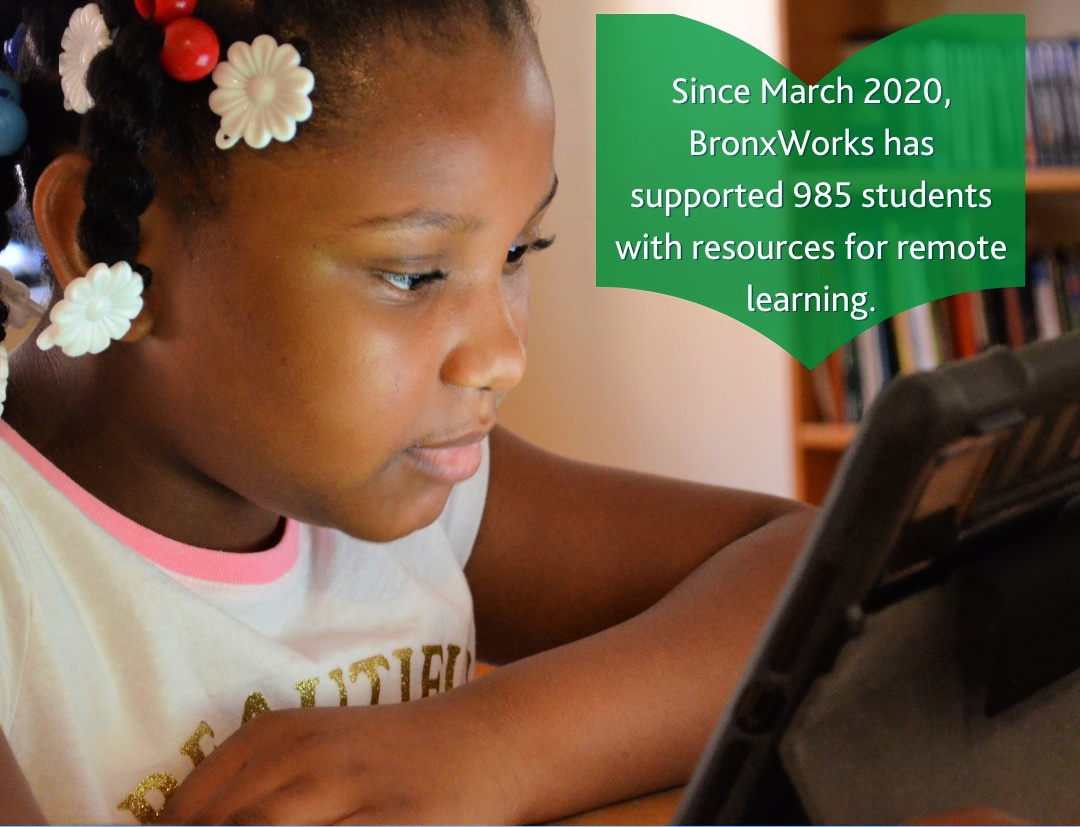 At the height of the pandemic, The Bronx grappled with higher rates of Covid infection and unemployment than other boroughs of New York City. Despite several years in which there was a positive change on many fronts, The Bronx struggle became more acute during the pandemic.
But for BronxWorks, a human service organization founded in 1972, stepping up in a time of crisis was nothing new. Their mission of helping Bronx residents improve their economic and social well-being has stayed consistent. Their approach, however, has changed and adapted to the needs of our community.
Initially focused on helping seniors resolve housing disputes, today, BronxWorks, serves 64,000 people and offers a diverse set of programs that include jobs training, health and wellness programs, adult and family homeless services, HIV/AIDs education, and food support. So, when the pandemic hit, BronxWorks did what it has done for fifty years: adapt to meet the community's most pressing needs. 
"As a social service organization, many of the programs we offer are essential: it wasn't a matter of if we were going to offer our programs, it was a matter of how," explains Gianna Dell'Olio, Director of Advancement and Communications at BronxWorks.
Before the pandemic, BronxWorks operated three food pantries for food-insecure residents. However, once it became clear that residents were losing their jobs, BronxWorks recognized that food insecurity was about to skyrocket. Quickly, they increased their food pantries from three to twelve to meet the emerging demand and added food delivery services for the most vulnerable residents.
"Food insecurity may not be as acute as it was at the start of the pandemic, but it remains a challenge," explains Eileen Torres, Executive Director of BronxWorks. "To help The Bronx recover, we've committed to maintaining six food pantries to provide food to families facing economic hardship. We will continue to adapt our programs as more needs emerge."
But BronxWorks didn't just focus on food; they also concentrated on providing internet and Wifi accessibility. Over 500,000 households in New York City lack internet access. A disproportionate number of those households are in The Bronx. So, when lockdowns and social distancing measures pushed education and finance, food support, and health services online, many families lacked access to the help they needed. Thankfully, BronxWorks was there.
"We maintained staff at our traditional walk-in locations," says Eileen. "We knew that newly unemployed people – many of them without internet access – needed in-person assistance applying for benefits, many for the first time. We were right. At last count, 14,000 people connected with BronxWorks at our walk-in locations."
We are proud to partner with an organization that embodies our commitment to offering flexible products and services that prioritize our community. As The Bronx begins on the road to recovery, we invite you to support BronxWork's service by donating to their Building Better Futures Fund. Let's help them continue their work for another 50 years! Visit their website to learn more about the vital programs they offer. Want to understand how our partnership works? Find the answer here.