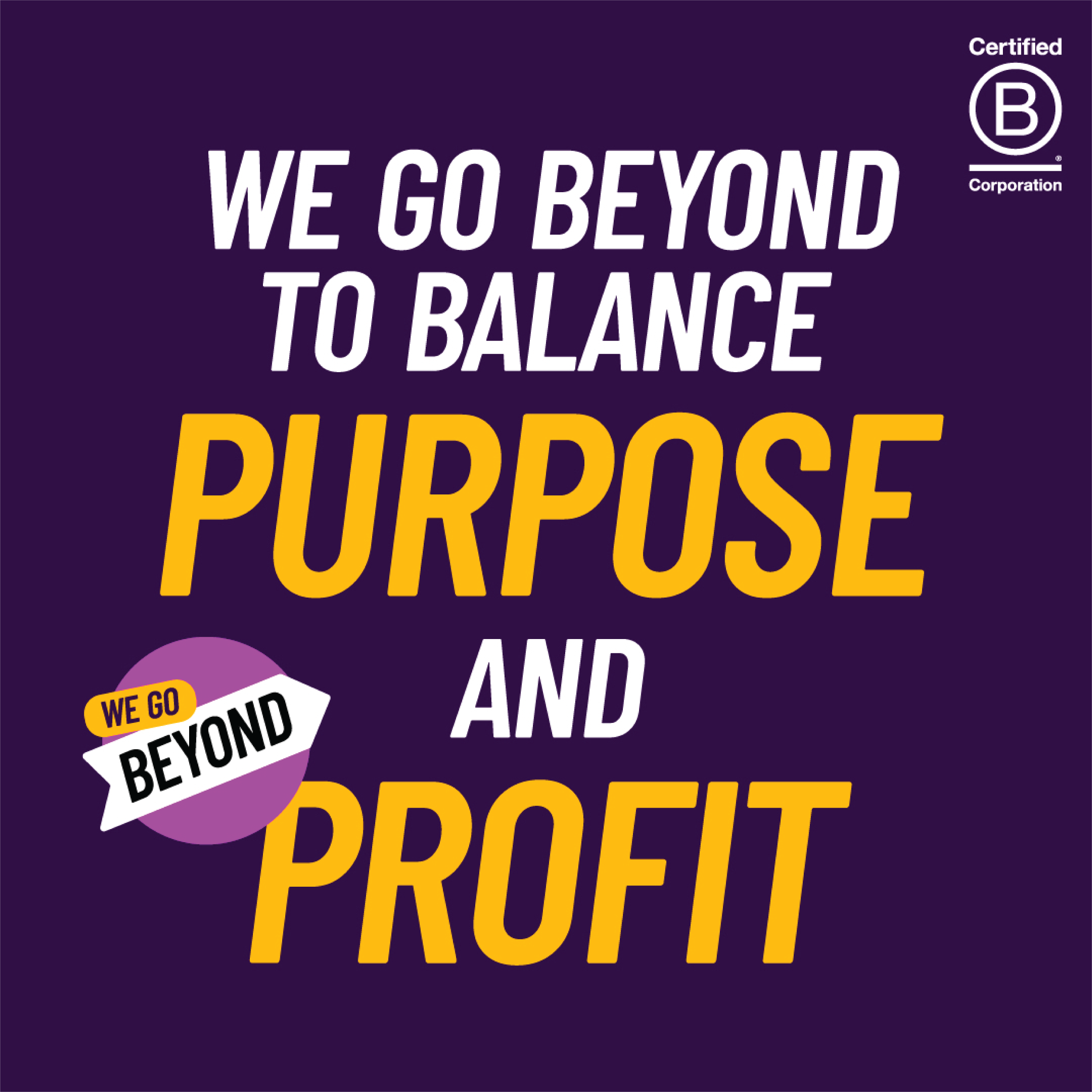 Featuring Five Staff Perspectives
Seven proud years and counting.
When we first joined the B Corp community in 2016, we saw the B Corp model as an opportunity to formalize and be held accountable to our community-centered mission. We exist to create financial inclusion for families, small businesses, and nonprofit leaders in the Bronx and across New York City.  Today we experience being a B Corp as a way to certify that our model is working for all our stakeholders; measuring our internal and external impact across our community, workers, customers, the environment, and also as part of a movement of leaders to "go beyond."
The B Impact Assessment has helped us to understand and guide our path toward carbon neutrality; to shape our products like our E-Bike Loan NYC and accessible and transparent nonprofit and small business checking accounts. We are proud that our score has steadily increased over the years and that today our overall B Impact Score is 161.2 the highest B Corp Bank score in the U.S.
Read Celebrating Earth Day Big! We Are Officially Carbon Neutral
Read Happy B Corp Month, Celebrating 5 Years in the B Corp Movement
Check out Our B Corp Profile
Because we see being part of the B Corp movement as an opportunity for ongoing thinking about how we create positive impact through our business and use our power as a financial institution for the benefit of all, the B Corp values have become the barometer for our decision-making and have influenced our team. So, this year, as we celebrate our seventh B Corp month, we want to share the impact the B Corp movement has made on our team and culture.
Here's what being B Corp means to us:
Erica Rosero, Small Business & Nonprofit Loan Officer
Community Impact
"Because we are one of a few small community banks in the Bronx, New York, we understand the needs of the people surrounding us. We work hard to ensure our neighbors have equal access and the opportunity to build personal savings and prosperous futures for their families. We also support organizations and community leaders in the Bronx, Harlem, and New York City.
For example, our customer, The Kota Alliance,  empowers women and fights for gender equity;  Greyston Bakery provides work for people who have experienced barriers to employment through their innovative Open Hiring policy; and University Neighborhood Housing Program (UNHP) helps create thriving neighborhoods. These are just a few of the nonprofits and small businesses we proudly support.
These organizations share a common denominator: empowering our community. By investing in them, we invest in the people surrounding us. We would all benefit if more financial institutions became part of the B Corp movement!"
Read The Kota Alliance: Changing Lives Through Empowerment
Josefa Ruiz, VP/Branch Market Manager
Customer Impact
"We're unlike other banks in NY because we build and prioritize relationships, offer time and personal attention to our customers. We meet with our clients one-to-one to better understand their financial needs and help provide solutions."
Read Rooted in Community: A Conversation with Josefa Ruiz, VP & Branch Market Manager
Germarie Medina, Commercial Loan Underwriter
Environmental Impact
"It is tough to imagine how a bank can make a positive environmental contribution. When describing the B Corp movement to my customers, friends, or family, I always start with the fact that we are carbon neutral with no fossil fuel investment pledges. However, when choosing a financial institution, most people do not instinctively consider community and environmental impact.
As an underwriter, I take pride in the fact that we support organizations that work to clean and restore the Bronx River, like Rocking The Boat and The Bronx River Alliance. The nation would be different if all financial institutions adopted the B Corp ethos or became a B Corp."
Read: How Germarie Uses Her Financial Expertise to Help Her Community
Read: Change Flowing Through Our Community, The Bronx River Alliance
Read:  The Bronx is A Place Where Everything Is Possible
Katherine Martinez, Consumer Lending Associate
Workers
"When I started working at Spring Bank, I didn't know about the B Corp movement or its significance. Now I understand how powerful it is for us as a bank in the financial capital of the world to be the first B Corp bank in New York City. Knowing we are doing something for the community is big for me. I've also always been focused on how we can do better for individuals and the environment."
Read Building Our Bronx Community with Katherine Martinez
Read How B Corps Are Building People-First Workplaces
Susan Chapas, Marketing Analyst
Governance
"Working for a B Corp is extremely reassuring. I know that my work makes a positive impact because Spring Bank's business structure protects our mission as the first priority. The bank's decisions must be made ethically — focusing on affordable banking products, equal access, and equitable assistance for underserved communities."
Read Introducing The E-Bike Loan NYC
Find out how you can bring our Employee Opportunity Program to your organization.
Learn about our nonprofit checking options
Learn about our Green Checking, a personal checking account