Bragging Big this B Corp Month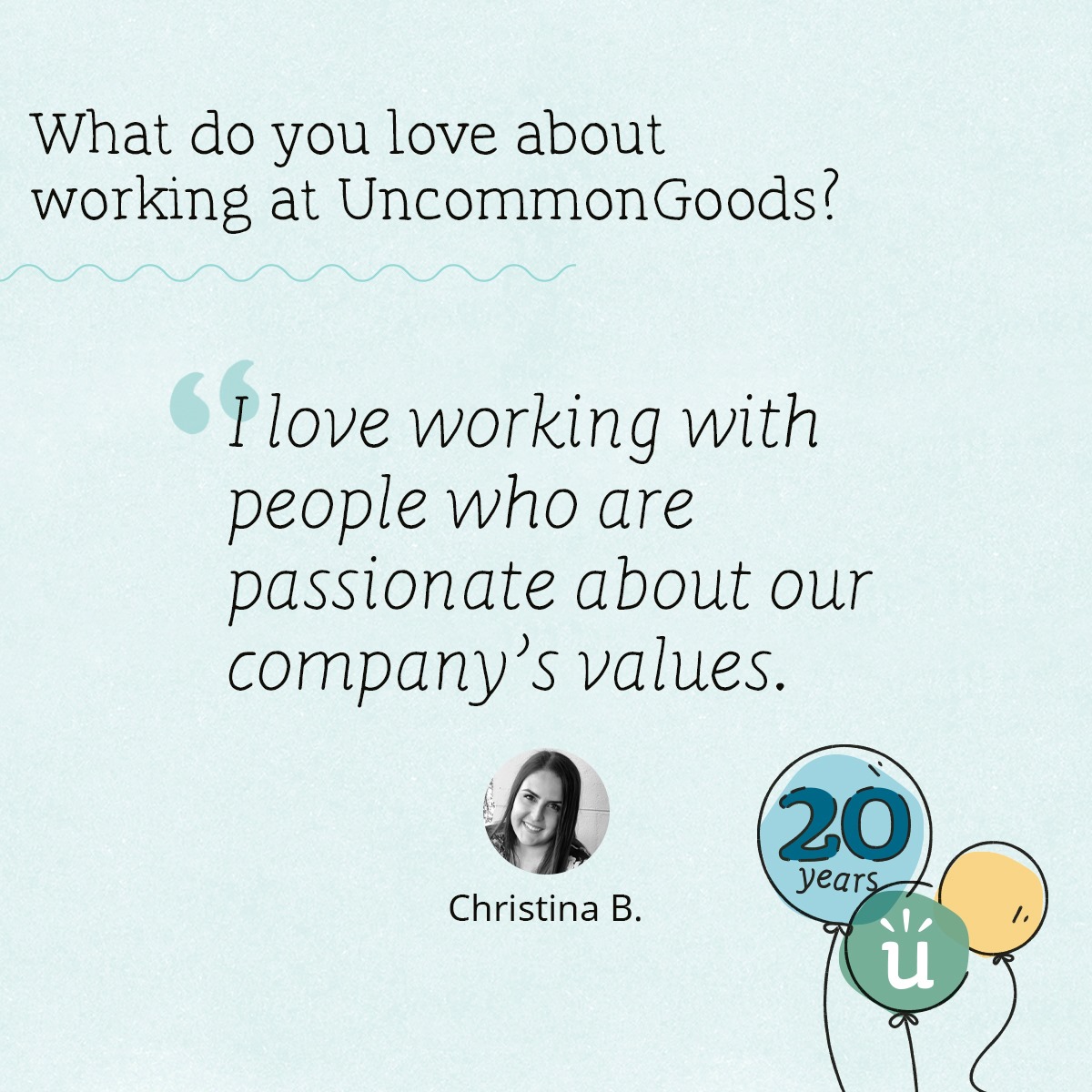 We get big-time bragging rights. Our clients make it so easy. As the first B Corp bank in New York City, we are proud to be the financial institution many B Corps in the city choose to trust with their accounts, borrowing needs and programs for their employees. And, to launch our B Corp month celebrations, we are excited to exercise our bragging rights about a unique Brooklyn-based B Corp, Uncommon Goods.
One of the first online marketplaces for makers to sell their crafts, homewares, and customizable gift options Uncommon Goods offers products that meet the highest standards for design and social responsibility. In fact, they created a Vendor Code of Conduct, which outlines their commitment to protecting animal life, fair and equal pay, and sustainable supply chains-to which every vendor is held accountable. And they offer gifts you can't find anywhere else. Some of our favorites include their New York Times Custom Front Page Puzzle and made-in-Brooklyn, Bee Knee's Salted Honey.
Twenty years in with over 200 employees, Uncommon Goods boasts a reputation for supporting and scaling the small businesses of hundreds of artisans with thousands of packages shipped daily from Brooklyn across the country. And year over year, they are equally acknowledged as being a great place to work.
When the UnCommon Goods HR team learned about our Employee Opportunity Loan program that provides access to capital and free financial counseling, they knew it was another tool to support their employee-first culture.
"We weren't offering an employee loan program or financial counseling for our team. Spring Bank's program can help our team create healthy financial habits, build savings, and it caters to all employees across departments. It was an attractive opportunity for us," says Jennifer Coleman, PR & Affiliate Marketing at UnCommon Goods.
Our Employee Financial Empowerment Program serves as a tech-enabled comprehensive financial health tool. The Spring Bank Employee Opportunity Loan provides lip to $3000 with no minimum credit score requirement and built-in savings and credit building features. And, the Trust Plus program from Neighborhood Trust Financial Partners gives employees access to free, unlimited, and personalized financial counseling via phone, Skype, or text.
Just a few months after the launch at Uncommon Goods, fourteen employees have taken advantage of the Financial Empowerment Program.
"So far, we've heard great things from employees about the experience with the financial counseling and loan program. And working with Spring Bank as a fellow B Corp, is important to us, too," says Jennifer. "The biggest reason people apply to work with us is because we are a Certified B Corp. The B Corp ethos is part of our culture. We attract top talent who are interested in civic engagement,volunteerism, and who want to contribute to what we are building together," says Jennifer Coleman, PR & Affiliate Marketing Manager at UnCommon Goods.
In addition to offering paid volunteer days, and double the federal minimum wage as starting pay for hourly team members, UnCommon Goods has been an active supporter for paid family leave laws. Named as a "Business Champion" by Family Values at Work, Founder & CEO Dave Bolotsky, advocated for mandated paid time off for new parents, caretakers of ill loved ones.
"We offer 12 weeks of paid time off for primary caregivers and gender-neutral family leave," says Jennifer. "And we are committed to offering a livable wage for our employees."
Lucky us to have values-aligned partners like Uncommon Goods who use their business as a vehicle for social and environmental good, and community-building.
We are proud to celebrate B Corp month with UnCommon Goods, our other partners in the Employee Loan Program, Greyston Bakery, Crave Fishbar, and Pistici restaurant, and the 150+ other B Corps in New York City.
Read more about the UnCommon Goods story. Get the details about our Employee Financial Empowerment Program and learn about other B Corps who participate.  Request more information about our Employee Opportunity Loan.