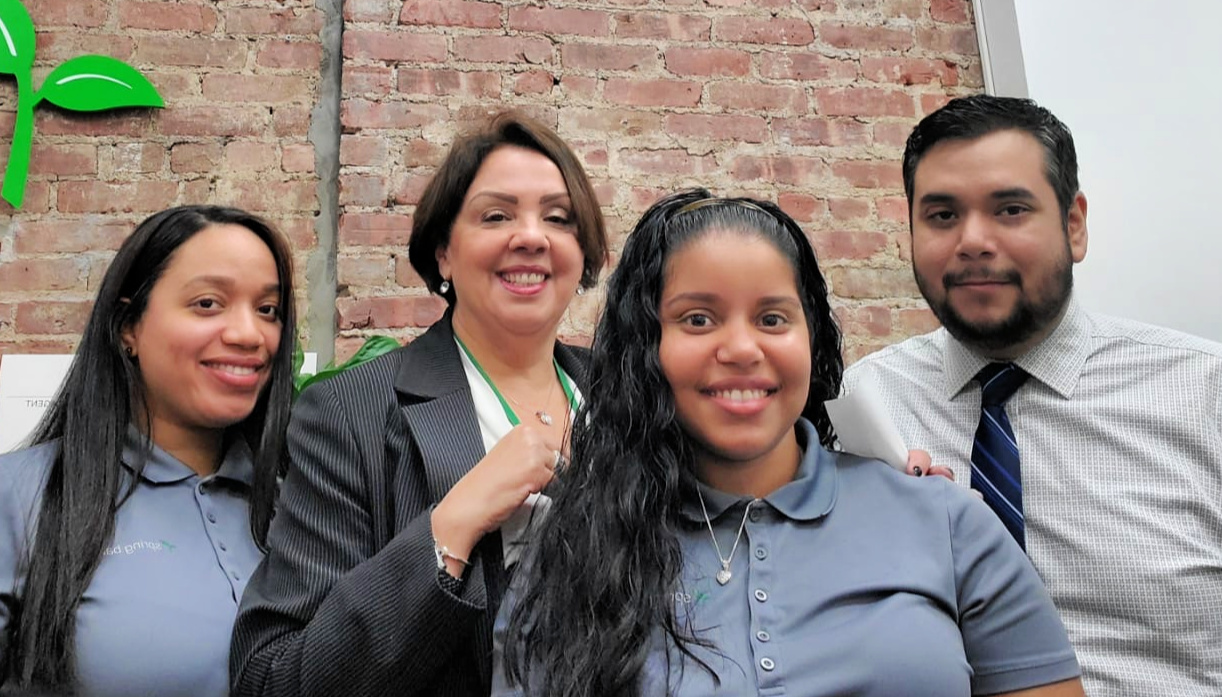 We are proud to be a community bank where everyone knows your name.  Committed to the durable and shared prosperity of New York City, we take pride in our community-first culture. We are neighbors first in the Bronx and Harlem, and we work hard to build one-on-one relationships with our customers. And since she started her journey with us as our Harlem Branch Manager in 2016, Josefa Ruiz has worked diligently to bring our community-centered mission to life. Today, Josefa serves as the Branch Manager for both of our Bronx and Harlem branches. For Josefa, managing both locations is a responsibility and an exciting opportunity.
"As the Spring Bank Branch Manager, I'm improving our staff communications to make our Harlem and Bronx branches feel like one branch," Josefa says when describing her new vision. "I want to merge our teams, so we operate as universal employees. After all, we address the same needs. I firmly believe that together we can better serve our customers."
At a glance, Josefa's task seems daunting. However, she finds inspiration in our COVID-19 response. "Spring Bank has been taking such good care of us during this difficult time," she says. We take the needs of our employees and our community seriously.
To Josefa, belonging to such a supportive culture reverberates among our employees and our most significant priority–you–our customers.
"We are a special financial institution," Josefa says when describing how she interacts with customers. "I first started working in banking in 1986, and Spring Bank reminds me of my first days in community banking. Our clients are not numbers; they are our neighbors. We know everyone's names."
"Because of this vision, we can help clients who wouldn't typically qualify for assistance at larger banks," she continues when describing what separates us from other financial institutions.
And here at Spring Bank, physical and social distancing does not mean we distance ourselves from our customers. Josefa and our teams are committed to meeting your personal banking needs.
"I work with each customer on a personal basis," she says. "I get to know them so I can meet their personal needs. That is what we are known for, and COVID-19 has not changed that. You can give us a call, and someone, most likely, the person who opened your account will be the one to speak with you. That doesn't happen at larger banks where you typically call an 800 number."
However, to prevent the spread of COVID-19, we understand that we must do our best to keep our interactions distant or virtual. That is why we want to bring our banking services to you through our Spring Bank app. You can deposit checks securely from your phone or tablet while on the go or from the comfort of your own home. Businesses can deposit up to $5,000, and individual customers can deposit up to $1,000. If you would like to increase your deposit limits, don't hesitate to ask us.
We are grateful for the committed leadership of Josefa Ruiz and all of our employees. If we can be of service to you in any way, give us a call at 718-879-5000 or visit us at our Harlem (2049 Frederick Douglass Boulevard, New York, NY 10026) or Bronx (69 E 167th St, Bronx, NY 10452) locations.
Learn more about our Spring Bank app and how to make a mobile deposit.