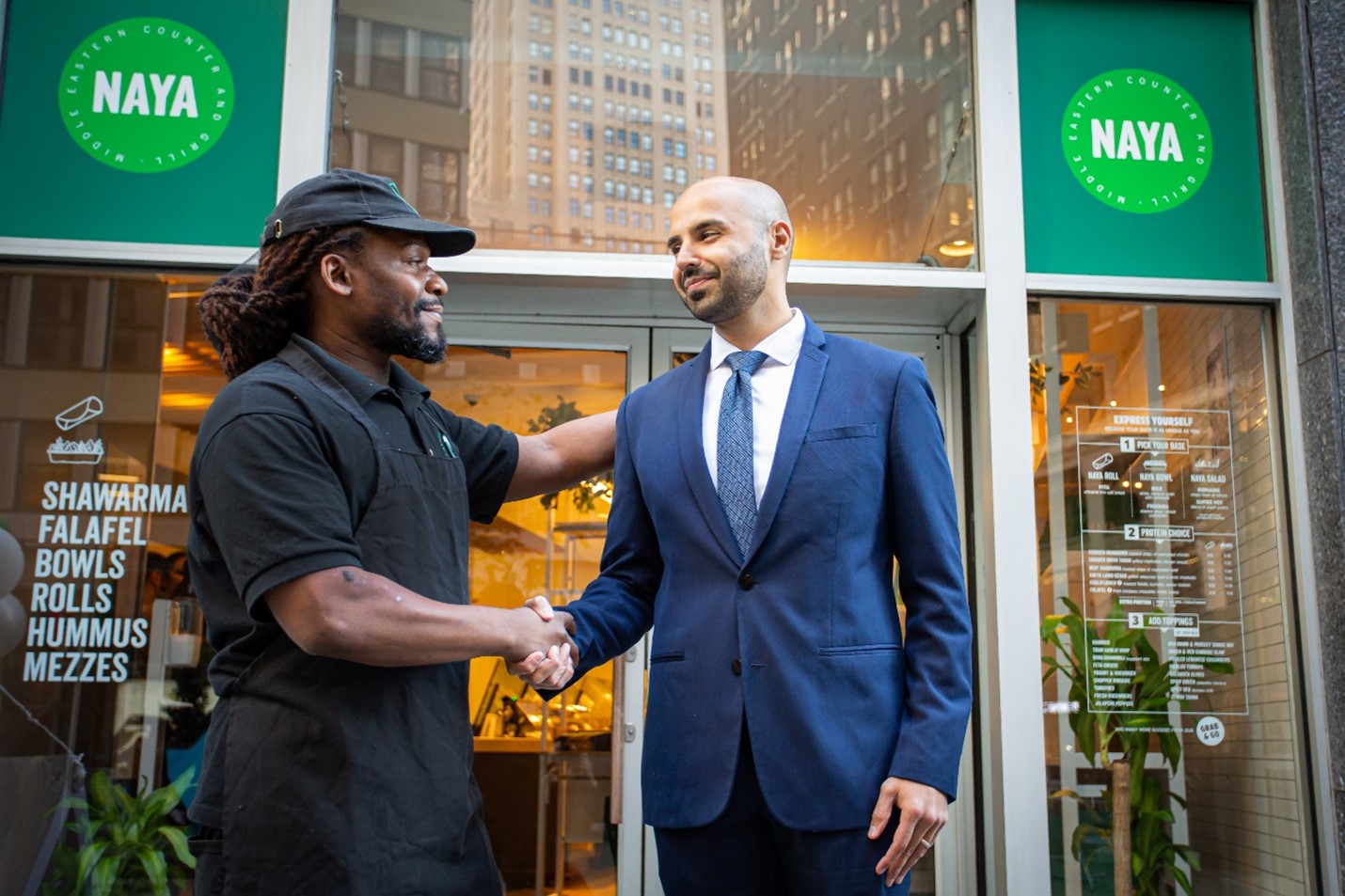 Photo: Small Business Client & one of NYC's newest Mediterranean restaurant chains, Naya with Akbar Rizvi, our Chief Lending Officer
Are you thinking about starting your own business? Bringing a product or service you're passionate about to market is a challenging yet rewarding experience. There are essential processes to know about operating a small business, especially when it comes to money management. You might be wondering how to accept payments from customers, where to charge business expenses, and, of course, how to pay yourself and other employees.
Opening a business checking account is the best solution to managing your business' finances. Check out our top 3 reasons why:
#1 Personal Protection
The money your business makes isn't yours directly. Instead, it belongs to the entity your business is established under that the government recognizes. Creating an entity for your own business is vital to protecting your personal assets. For example, if your business incurs debts that it cannot pay back, your personal belongings (like your car or home) may not be protected. So it's best to keep all business-related income and expenses in a business checking account.
#2 Credibility
Having a business checking account shows others that you mean business. Using a credit card, check, or direct deposit with your business name instills trust in your customers, clients, and collaborators. In addition, accepting or making payments through a business checking account enhances your business reputation by using funds branded with your business name.
#3 Easier Bookkeeping and Tax Preparation
With your business and personal finances separate, you can seamlessly sync your business checking account to bookkeeping software and easily automate your money management. These services make paying bills, sending invoices, and accounting less of a headache. Similarly, you can connect your business checking account to tax preparation software. Preventing any co-mingling of your personal and business checking accounts will help immensely during tax season.
Now that you know the perks of having a business checking account, it's time to find one that suits your business needs. These are the documents you'll need to open a business checking account:
Employer Identification Number (EIN): Also known as a federal tax ID, this 9-digit code serves as a Social Security Number (SSN) for your business. You may use your SSN if you're a sole proprietor.
Document of Formation: This provides basic information about your business, such as the owner's name, business address, and business purpose. It proves the company exists and can operate within the state legally.
Ownership Agreements: Agreements are typically standard for partnerships or businesses that more than one person owns. They clearly define what percentage of equity each owner has and detail how the business will be managed.
Business License: Depending on your business's activities and location, you may need licenses and permits to operate. Research industry regulations in your city and state to ensure you meet the requirements.
We make opening a new business checking account simple and easy – you can even do so remotely. There are many advantages to opening a business checking account with us: access to free small business services, access to our technical assistance provider partners, and easy access to small business support staff. Contact us to set yours up today.