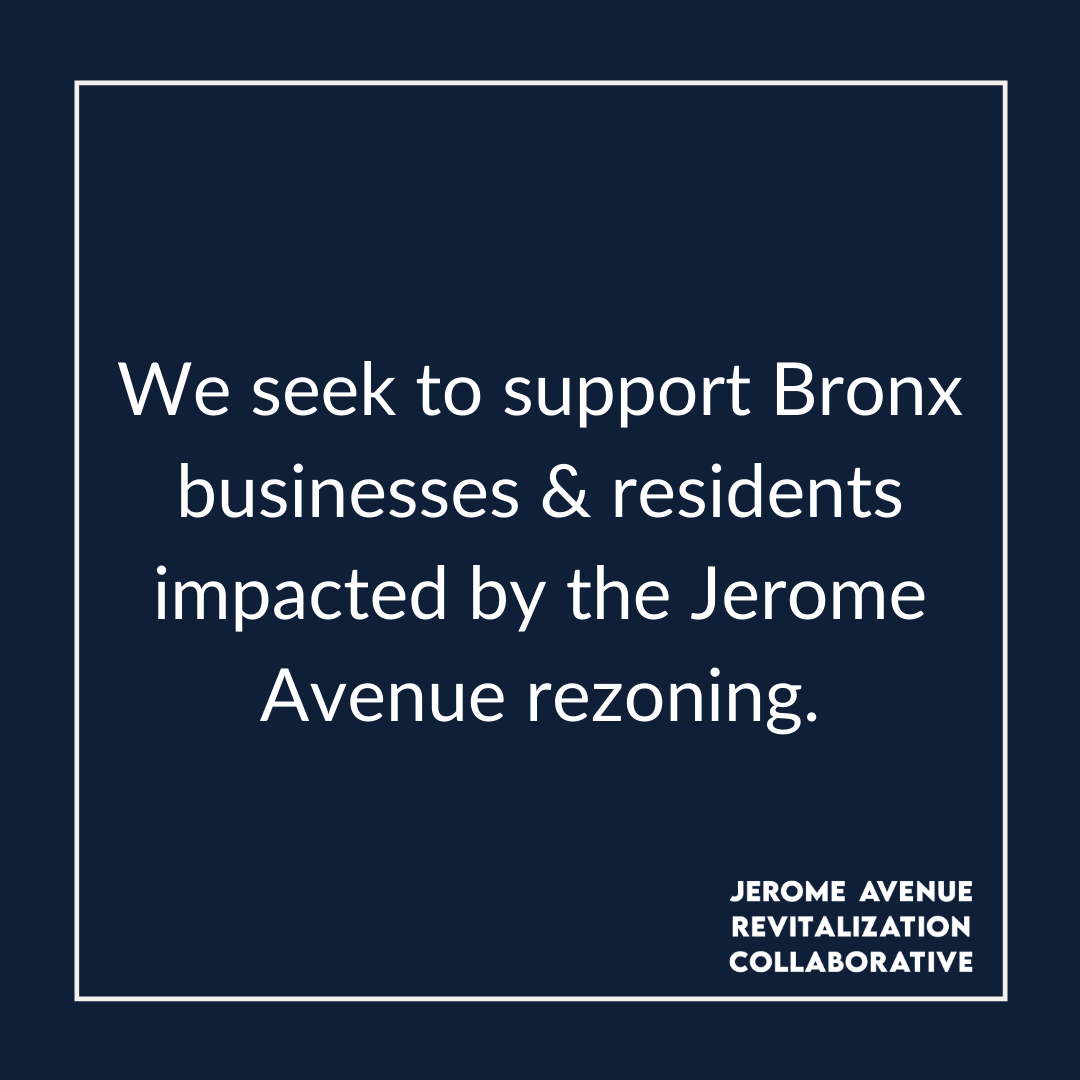 Standing Together for the Communities of the Bronx
In 2018 the Jerome Avenue Corridor was rezoned. Spanning 93 blocks across the South Bronx, the corridor comprises 700 businesses and 93,000 residents. As the most extensive rezoning in our city's history, the Jerome Avenue Corridor changes will have a far-reaching impact on the Bronx and the city. While rezonings are presented as agents for development and economic growth, they can also increase the cost of living and rupture communities by displacing vulnerable small businesses and residents. That's where the Jerome Avenue Revitalization Collaborative, JARC, comes in.
Facilitated by Jobs FirstNYC­–a workforce and community development organization and one of our collaborators–the JARC is a cross-sector place-based economic and workforce development partnership comprised of over 200 community members to support businesses and residents impacted by the Jerome Avenue corridor rezoning. JobsFirstNYC—in partnership with the Children's Aid Society's Bronx Impact, a part of the Empire State Poverty Reduction Initiative—was invited by community stakeholders to develop a plan and build the infrastructure necessary to benefit from incoming economic development. We are proud to be a part of JARC by working with stakeholders to ensure that the South Bronx community can collectively leverage new and existing opportunities resulting from the rezoning.
After more than two years of regular multi-stakeholder meetings, JARC publicly launches next week.  A series of events will showcase how JARC plans to bring inclusive economic growth to residents, employers, and workers affected by the Jerome Avenue Corridor rezoning. We are honored to participate by being part of the Paycheck Protection Program panel Wednesday, February 24, at 10 am. We will join community partners to discuss the emergency PPP loans we are providing to small businesses and nonprofits across New York City, with an emphasis on what our work means for The Bronx's economic recovery from the COVID-19 crisis.
COVID-19 has disproportionately impacted the Bronx. The high rates of concentrated racialized poverty have exposed our borough to this dual economic and health emergency's harshest impacts. And yet, only 2 percent of NYC's PPP lending dollars made their way to The Bronx. But it doesn't have to be this way. When we come together and share leadership, prioritizing our community's needs, we understand the importance of collective action. The JARC demonstrates this firsthand.
After the COVID-19 crisis is over, we will have to reimagine. The JARC's collective-impact model for community-sanctioned, organized partnerships is one crucial step toward a better future. Together as a community, the JARC aims to address systemic barriers that have kept the South Bronx excluded from federal and city resources.
To learn more about JARC week, check out their Twitter, Facebook page, Instagram, and website. There will be a JARC Stakeholder Townhall and a Bronx Borough President Forum. We hope to see you at our PPP panel. Register here.  Before you go, we invite you to read more about how our inclusive lending program benefited The Hope Program, a member of the JARC, and one of our key community partners.