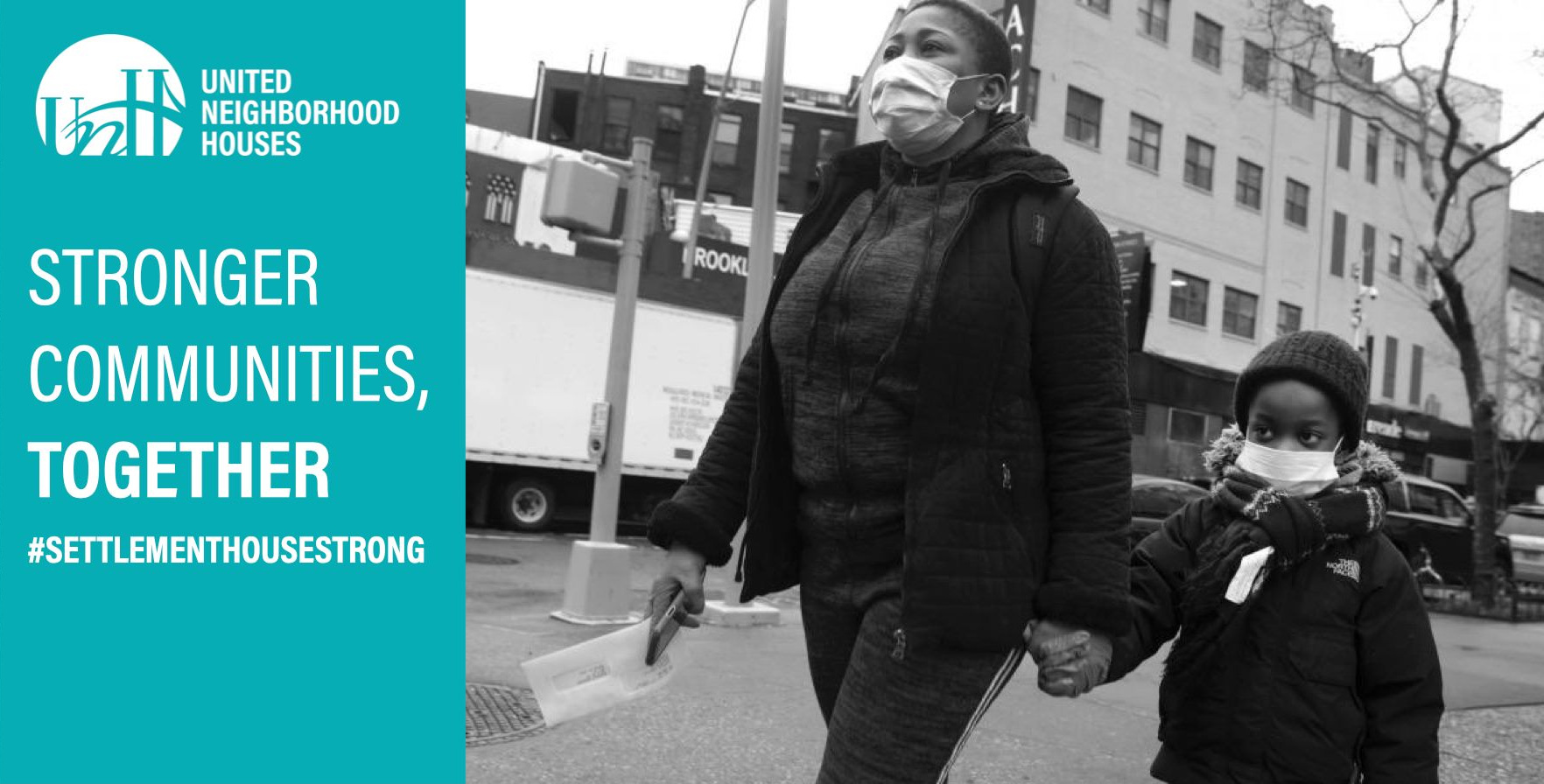 In pre-COVID times, settlement houses worked tirelessly to address inequalities in our communities by providing vital services that include housing assistance, meal delivery, job training, and mental health support. Now, in a pandemic crisis that has both exposed and exacerbated economic, racial, and gender inequality, our city has come to rely on their services more than ever. Thankfully, as they did over 100 years ago in our city's last pandemic, settlement houses have relied on the invaluable advocacy and support of United Neighborhood Houses (UNH) to carry out and improve their work.
Founded at the height of the Spanish flu of 1918-1919, United Neighborhood Houses, has been an organizer for the settlement house movement, working to create stronger communities and long-lasting social change. Today, they represent 45 settlement house member organizations that reach 765,000 New Yorkers annually. But what is a settlement house exactly?
"A settlement house is a nonprofit organization that offers services for all ages, but that also involves the community in its programming," explains Jennifer Weil, Director of External Relations at United Neighborhood Houses. "Settlement houses exist to build strong communities, meaning they offer intergenerational and volunteering programming that depends on community input and engagement. It's an attitude and approach rooted in reciprocity."
Sharing resources is at the core of what settlement houses do – and it's certainly at the center of what UNH does. For example, UNH brings settlement houses together to create forums where members can share their knowledge and expertise to improve their services and practices and advocate for better policies for their communities. And, in the early fog of the pandemic, UNH provided a space to bring people together for clarity and support.
"At the height of the pandemic, we organized hundreds of virtual gatherings so our members could share their experiences and any useful information they learned along the way," says Jennifer. "Our peer groups took on a new urgency as this was a crisis none of us had ever experienced in our lifetimes."
One program some settlement houses recommended was our very own Employee Opportunity Loan Program. Our EOL program allows participating small businesses to provide their employees with access to small-dollar loans­ and free financial counseling. In normal times, we offer this program for companies looking to help their employees build personal savings and credit for the future. However, in an economic crisis where settlement houses were forced to furlough employees, our EOL was a lifeline, helping small businesses retain employees and helping employees bridge immediate gaps in cash flow.
"Our members that have used the Employee Opportunity Loan program can't stop raving about it," says Angela Perry, Director of Member Services. "We've already had seven of our members participate in the program. We are so proud to have played a role in helping our members access the information they need to navigate this pandemic."
We are so lucky to have partners who connect their clients to their local community bank in New York and who share our commitment to supporting mission-driven organizations. As our city continues to recover from this pandemic, UNH's mission to build resilient New York neighborhoods is more crucial than ever. That's why we invite you to join their virtual benefit event, New Yorkers Who Make a Difference, on October 25th at 6:30 pm. You won't regret it.
Learn more about our personal savings account, personal checking account, and small business accounts on our website. We also invite you to see how settlement houses put their mission into action by reading our blog on BronxWorks. Let's work together to make our city stronger.