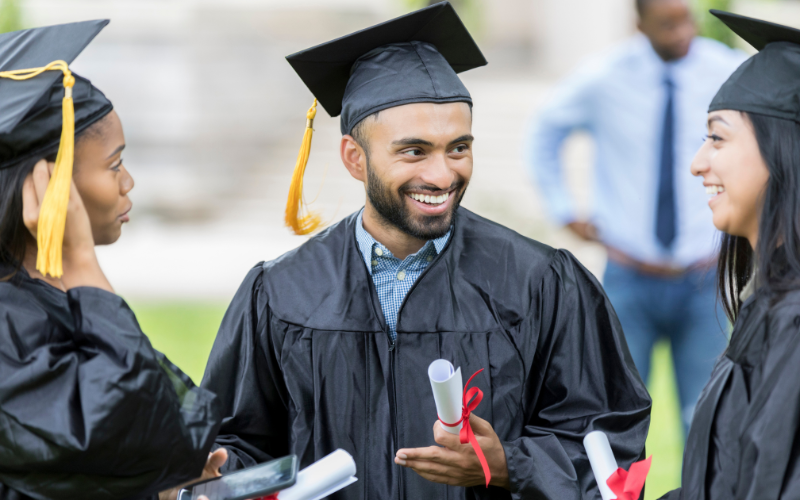 In Partnership with GreenPath Financial Wellness 
Congratulations to the Class of '23! For all of you donning caps and gowns (or for those who have a graduating family member), we've compiled some money management action items that can pave the path to future financial success. While everyone's financial circumstances are unique, it helps everyone to know where to start.
Build a budget. 
Creating a budget is the foundation of effective money management. Start by tracking your income and expenses in a personal checking account for 30 days. Most budgeting apps provide a visual breakdown of spending trends with suggestions on where to save. One standard budgeting method is to allocate 50-70% of your income towards necessities like rent, groceries, and transportation, 10-20% towards discretionary spending, and 20% to a personal savings account. Consider your financial picture and determine how you might include personal savings as a regular part of your budget.
Spend mindfully. 
While graduation is a reason to celebrate (and you should!), this is also a great time to practice mindful spending, especially if college — and the accompanying costs — are going to be part of your financial future. Differentiate between wants and needs and try only to buy items you can afford. This will help you avoid the accumulation of credit card debt.
Set up a personal checking account & personal savings account.
If you haven't already crossed this one off your financial bucket list, graduation season is the perfect excuse to do so. Opening a personal savings account and a personal checking account is the first big step toward financial independence. If you're ready to start your financial journey with one of just a few, mission-driven community banks in NY, we would love to support you.
To open an account, you'll just need a few things on hand:
Proof of mailing address
Your social security number or an ITIN
Government-issued ID (like a passport or driver's license)
Establish healthy credit. 
Building a positive credit history early in life lays the essential groundwork for solid financial health. Building good credit will benefit you when applying for loans, renting an apartment, buying a car, or securing specific job roles.
If your credit is not where you want it to be, we can help you get there. Our Credit Builder Loan was designed to help establish a healthy credit score and savings, a great tool to help people build credit for the first time. To start, the loan proceeds are placed in a personal savings account to secure the loan. Then, each month we report your payments to the credit bureaus. When you make the final payment, the loan proceeds are available, or you may continue to build your savings. Learn more about building credit through our Credit Builder Loan. You can also check out this article for easy-to-implement credit-boosting tips: 6 Factors That Affect Your Credit Score (And Simple Ways to Boost It).