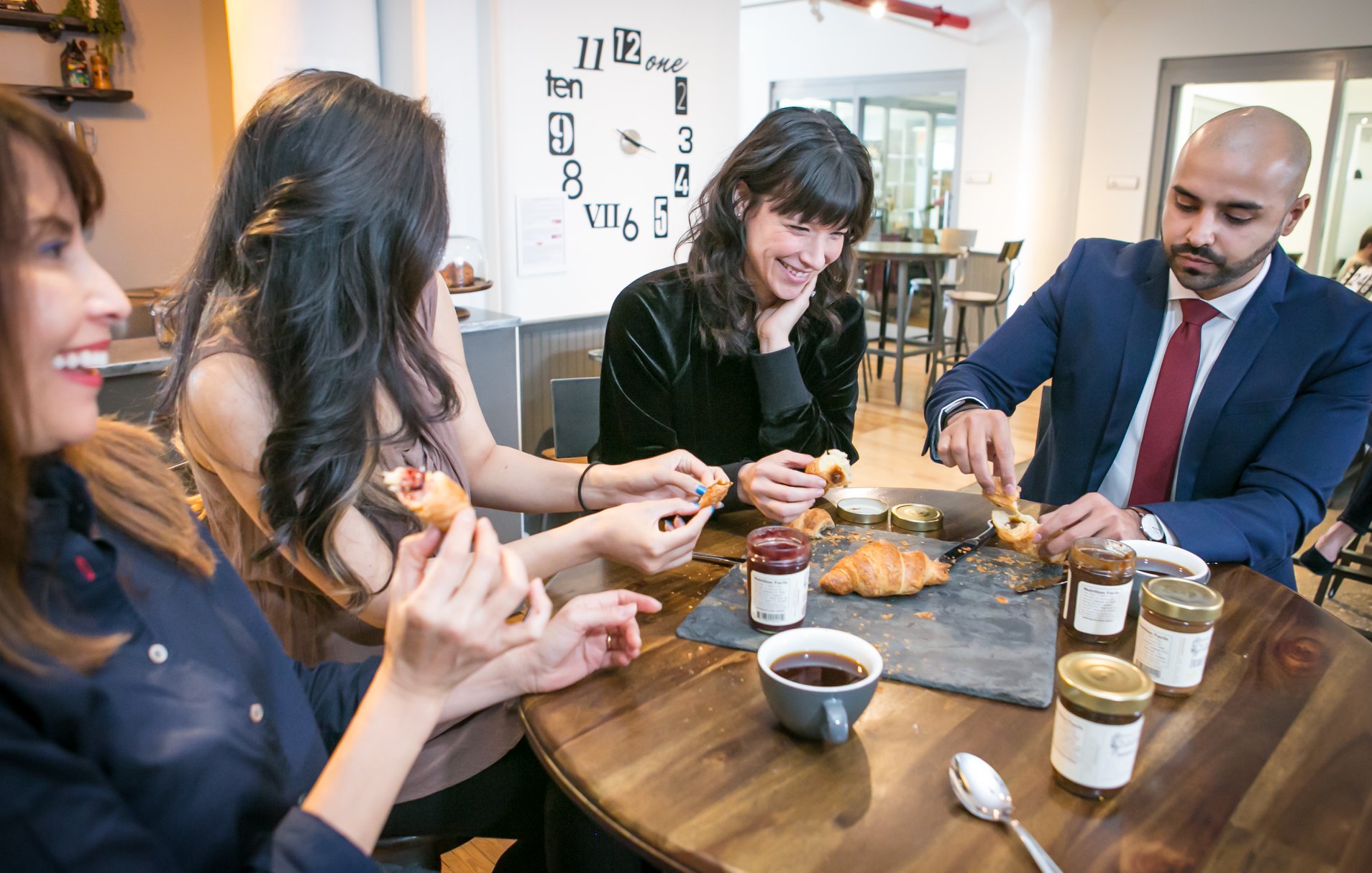 Observing the synergy between Jessica Quon and Sabrina Valle, the co-founders of The Jam Stand is just as delightful as the surprising splash of rum in their famous Drunken Monkey Jam. Best friends since college, they enjoyed trying crafty things like knitting, making apple cider and concocting homemade jams. Finding themselves simultaneously unemployed, Quon and Valle began experimenting with jam in their Williamsburg kitchen. Whimsical flavor combinations like peaches and spice for their Peachy Sriracha and berries and booze for their Blueberry Bourbon soon developed. (Trust us. You must try the Fig Tamarind with Brie). Just as the Brooklyn food scene started to take off, so did their sales.
"From the beginning, we thought we'd just sell the jams in farmers' markets, but then it started to do really well online and with independent shop owners. We weren't reaching out. Business and press coverage were just coming our way," explains Valle.
Six years later with 10 distributors and prime shelf space in big grocers, including all of the Whole Foods in the Northeast, The Jam Stand is much more than a "stand." Valle and Quon have grown a very successful and delicious company. Big brands want in with them, too. They recently developed a special Cherry Ginger Jam for Triscuit and Martha Stewart and a Banana Rum Jam Ice Cream with Haagen-Dazs. Realizing With such quick growth the pair knew they needed to start building capacity.
"2016 was a good year and we knew it was probably time to apply for financing. Knowing big banks would reject us, we made a list of community banks. And then we received an email about Spring Bank from the Brooklyn Chamber."
A few weeks later, The Jam Stand was approved for an SBA, line-of-credit through the Spring Bank Small Business Grow Program. Ines Marino, Director of Small Business Lending at Spring Bank, knew they were the perfect fit for the Spring Bank small business portfolio.
"What made The Jam Stand easy for us to fund was a combination of the strength in sales and their synergistic partnership as co-founders. Their roles are clear. Sabrina handles the operations, financing and production and Jessica is focused on the marketing and PR," says Marino.
Additionally, Marino emphasized the importance of how organized, responsive and strategic Valle and Quon were in their growth plan for The Jam Stand. Not only did they know their business inside and out, they knew where they wanted to take it.
"They were on top of the numbers and knew the specifics of how to pace their growth. Their strategy for sales with hotels and bed and breakfasts was targeted and we knew our micro line of credit would help them achieve these targets by covering costs for packaging and product development for jam packets," explains Marino.
Part of Spring Bank's financial inclusion mission in New York City is to support the growth of women-owned small businesses. Bigger banks often consider growing startups like The Jam Stand too risky to fund, but for Spring Bank, they make the ideal client.
"We are willing to go anywhere in the city and come to our clients. We do whatever we can to make it easy for them to open an account, apply for funding and make deposits. As a small business ourselves, we value the personal relationships we have with every client. Clients aren't numbers to us," says Marino.
Learn more about the Spring Bank Small Business Grow Program at springbankny.com/small-business-lending/. And don't forget to spice up your next brunch with Drunken Monkey or other unique flavors from The Jam Stand