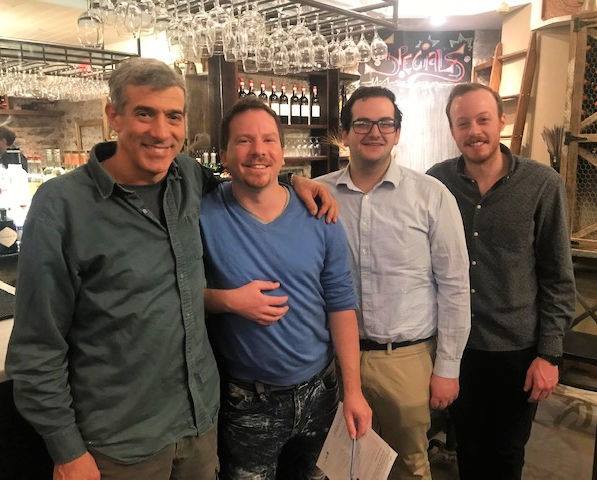 Michael Forte, Founder of Pisticci with his team and the team of Neighborhood Trust Financial Partners
For just a moment, you forget you're one of 8.6 million people living in our bustling, hustling city. For a moment, the nostalgia of your hometown hits you as you sit at the wooden bar as if you're among old friends. Except you're sharing some of the best Italian food with local artists at the first 100 percent carbon-neutral restaurant in New York City—and one of the first B Corp restaurants in the world.
This is Pisticci. This is the culture Michael Forte, the owner and CEO intentionally designed; a culture where his employees are at the front of every decision he makes, including their financial health.  Pisticci is a profit-sharing business and has been since the day it opened. And as one of our first partners in our Financial Empowerment Program, Michael supports his team in building long-term wealth for their families.
"Financial security is a real issue for people, especially because student loans are so burdensome. I wanted to find a way I could help my employees plan for the future," says Michael.
Soon after the launch, several of Michael's employees took advantage of The Financial Empowerment Program in order to build credit and pay off debt.
The Financial Empowerment Program serves as a comprehensive financial health tool for employers with two key features:
The Spring Bank Employee Opportunity Loan, with up to $2500 with no minimum credit score requirement and built-in savings and credit building features.
Free, unlimited and personalized financial counseling via phone, Skype or text with Neighborhood Trust Financial Partners. NTFP counselors help their clients create financial action plans and provide weekly check-ins to assess progress on their plan.
Financial counseling when supported by access to an affordable, small-dollar loan provides a comprehensive financial health benefit. Oh, and did we mention that The Financial Empowerment Program is free to employers?  Zero costs to employers. Zero set-up hassle. Via our fintech tool, employees can take advantage of either or both offerings. We take care of all the details.
"Who can afford this type of personalized advice or even know where to find it?" says Michael. "I made the initial call to Neighborhood Trust Financial Partners (NTFP) to try it myself. It really is as good as they say."
We would love to help you empower the financial health of your employees. For more information contact our Director of Consumer Lending, Melanie Stern at [email protected] or 718-879-5198. And we absolutely encourage you to make a reservation at Pisticci.