"I live at the bottom of a hill. With my old, non-electric bicycle, I used to push it up that hill, then again and again because my neighborhood has a lot of hills. I was practically pushing it all the way to work! But now I can enjoy the ride because of my new E-Bike and the E-Bike Loan NYC I received from Spring Bank." – Pamela Martinez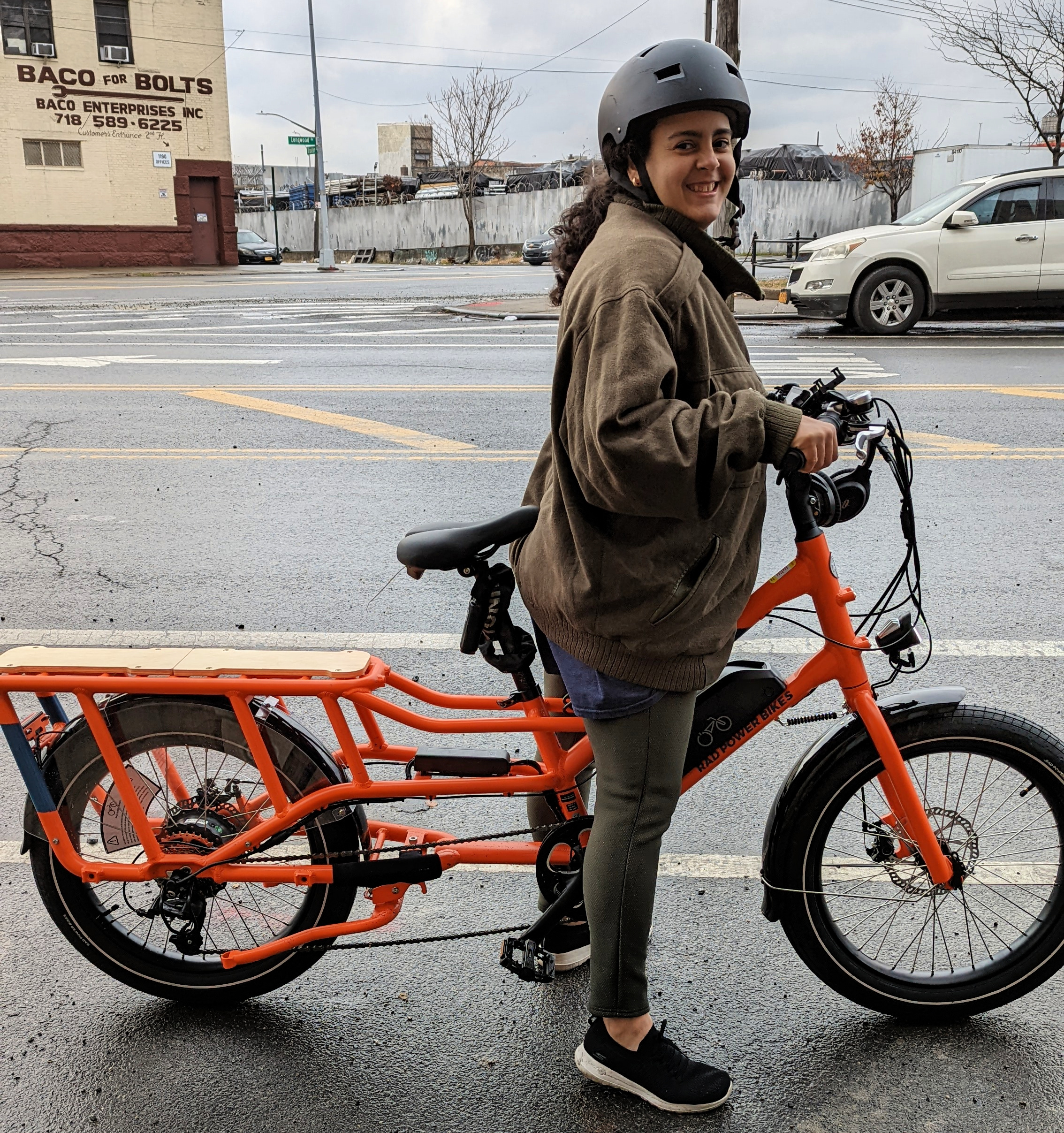 Pamela Martinez is a teacher's assistant here in The Bronx and the Hunts Point Alliance for Children, and she was one of the first New Yorkers to receive an E-Bike and E-Bike Loan NYC through our partnership with the Equitable Commute Project (ECP). The ECP was developed at the height of the Covid-19 pandemic as a partnership between NYU Stern, the Hope Program, Electric Avenue, Transportation Alternatives, and us as the financing partner. Our mission is to create a healthier, more affordable, and greener commute for the one million+ NYC frontline workers.
Through our new E-Bike Loan NYC, employees can receive a loan of up to $2500 to use for a new E-Bike, which will also help them build their credit and savings – all with no minimum credit score requirement.
"I'd wanted an E-Bike for a long time! And my employer knew that I rode my old bike to work every day. But for me, not being from this country, I didn't have credit yet. However, I learned I could get the E-Bike Loan NYC through the Employee Opportunity Program from Spring Bank, and I could pay it back little by little. So I applied, and my loan was approved right away! Now I love riding my new E-Bike, especially because I have to carry so much back and forth every day," Pamela says.
If you bank with us, you know that we're so much more than just a bank – even though we are one of the best banks in NY! We're a community. And that's why we were so excited to work with Pamela. She takes care of the people around her: developing daily science experiments and dance parties for the kids, collecting winter coats for donation on Giving Tuesday, and even ensuring that struggling families in the neighborhood get connected to the services they need.
"I love my job," says Pamela with a smile. "I love helping people. I love that we're doing good for kids, families, and the community. Hunts Point has a lot to give. You have to dig and find the resources – and that's what we do for these families."
Ensuring that our customers and community are taken care of is always at the top of our minds. Therefore, we designed the application process for the E-Bike Loan NYC to be as smooth and straightforward as possible. Learn more about it here.
"Everyone at Spring Bank was so helpful!" Pamela says. "Because I went through my company, they had a lot of the information I needed. Everything else I could do by myself online – it was very easy."
Commuting by E-Bike is a good choice for more than just your wallet. It's often more reliable than public transportation. And as Pamela notes, it's also good for the environment, which means a healthier, greener future for her children and students.
"I ride my E-Bike everywhere now: to the beach, visit my family in Brooklyn, and even go to Costco with it! Everybody knows me as 'The Bike Lady' in the supermarket," she laughs.
We love to see it! 🙌🏽 🚴🏽
Ready to get an E-Bike of your own? Learn more about our E-Bike Loan NYC. If you're an NYC employer, check out how you can support the financial health of your employees with our Employee Opportunity Program, which includes the E-Bike Loan NYC. Find out more about the Equitable Commute Project. Finally, check out our personal savings and personal checking accounts. We're honored to serve the people of New York as one of the best banks in The Bronx, New York!