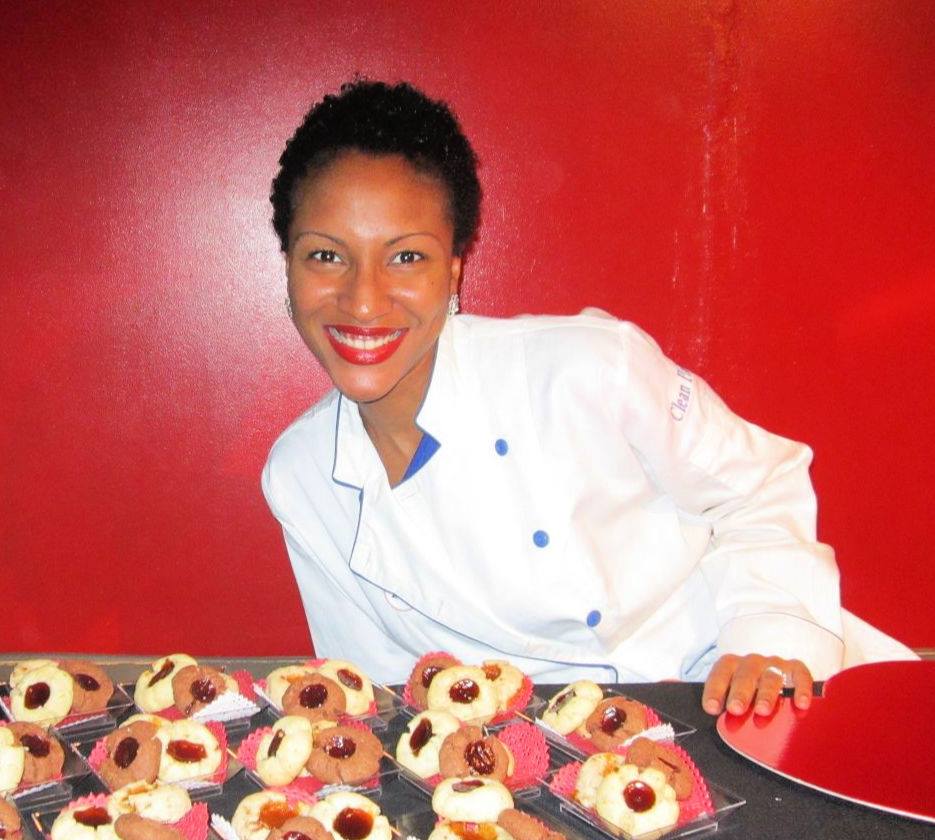 Chimere Ward from Clean Plate Co. Photo Credit: LocoBozo 2013
"I didn't have the capital to get into the Harlem Whole Foods. The Spring Bank Micro Line of Credit helped me to do that,"
Chimere Ward, Founder, and CEO of Clean Plate Co.
In 2008 Chimere didn't know how to cook. And her kitchen wasn't a place where she'd spent much time.
"To say I was un-domestic is an understatement, but it's just about believing in yourself," says Chimere Ward, Founder, and CEO of Clean Plate Co.
A decade later, Chimere has grown Clean Plate Co. from an experiment in her kitchen into a full-fledged catering company. Full-expression of her creativity and culture came alive through her food. Hosting friends for Thanksgiving dinner led to a church bake sale which opened the opportunity to host a small booth at the Long Island Flea Market.
"Before I knew it, I was launching a business. My passion for food—and the flexibility it provided me to be home with my baby–quickly changed the trajectory of my life," says Chimere.
To learn the 101 of entrepreneurship, Chimere attended free workshops for marketing, sales, and bookkeeping. She hosted events at art galleries for exposure and very quickly, the catering orders began to fly. And then Clean Plate Co. landed catering deals with Gap, Time Out New York, and the Chamber Music Society Lincoln Center. At the end of 2014—just five years after Chimere learned to cook—Clean Plate Co. booked their first wedding contract.
Clean Plate Co. is a full-fledged catering company in East Harlem specializing in "seasonal comfort foods." Menus include locally-sourced ingredients, vegan options, and Caribbean-inspired menus with dishes like jerk-chicken meatballs with cranberry mango salsa, wild mushroom lasagna with crispy kale and vegan black and white ganache cupcakes.
"We keep our cuisine stylish and comforting. Lots of color and flavor. We work to understand where our clients are from and what matters to their families as we customize their menus. This offers connection and nostalgia through food," says Chimere.
And for those of us who consume cheese like it's the sixth food group, Clean Plate Co. sells an award-winning, Smoked Gouda Mac & Cheese for wholesale at Park Slope Food COOP, Food Kick and Uris Hall. As part of the Hot Bread Kitchen incubator in East Harlem, Chimere is experimenting with growing the wholesale food manufacturing part of the business. In 2017 as she developed a partnership with the Harlem Whole Foods.  Chimere reached out to our Director of Small Business Lending, Ines Marino about our Small Business Micro Line of Credit
"I didn't have the capital to get into the Harlem Whole Foods. The Spring Bank Micro Line of Credit helped me to do that. Spring Bank encourages small businesses to analyze revenue and cash flow so that we stay afloat. And Ines is like family. I know I can call her any time with questions and she regularly checks in," says Chimere.
Chimere and her now family of four recently came back from the island of Tobago as part of a journey to discover the ancestral history of their family. Caribbean-American recipes are staples in her family's diet as a way to remain connected to their heritage. Needless to say, Chimere is not a "chicken-tender mom."
"My kids love that I'm a chef. We've created our own in-house culture with food. I make slow-cooked, culturally-traditional meals. Today, I'm making stewed chicken. The kids recognize the spices I use at home as the same flavors of Tobago and other Caribbean islands we've visited," says Chimere.
We encourage you to visit Clean Plate Co. for free recipes and to check out Chimere and her team for your next corporate or family event. And, for more information about how you can grow your company with our Small Business Micro Line of Credit, contact Ines Marino, Director of Small Business lending directly at [email protected] She will help you determine if you're ready for financing and what you might need to get there.
Bon Appetit!