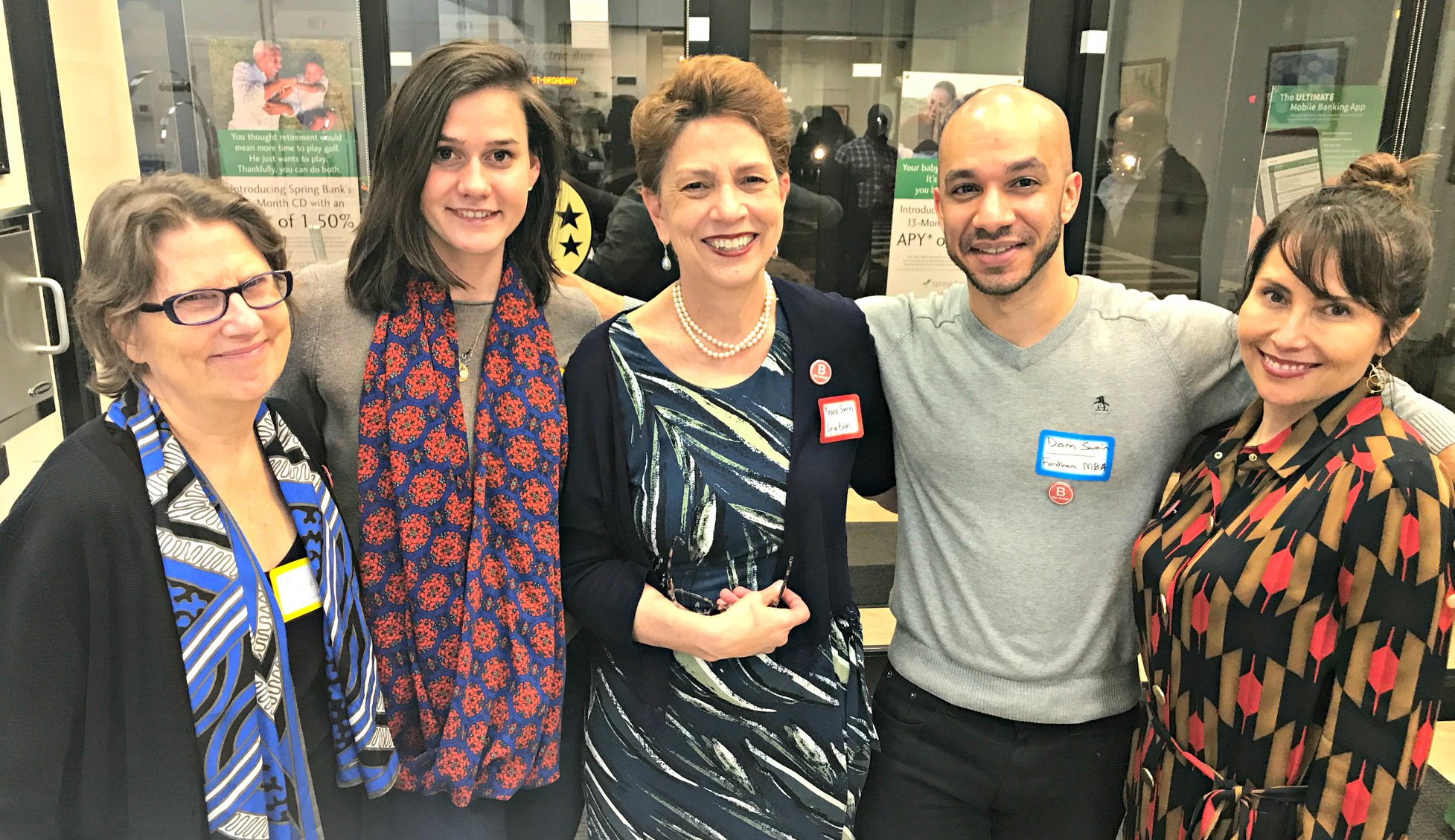 Germarie smiling as she helps a Spring Bank customer in the Bronx
Financial literacy and financial inclusion. These are phrases that's hit the social enterprise space. B Corps, Community Development Financial Institutions, even some traditional banks are creating strategies and products which are provide financial literacy and are "financially inclusive." But what exactly does it mean to be included in the economy? Why is this important? And who's really making a difference for those who are currently excluded from the market?
These are questions we hold dearly. But we don't have all the answers. For the last 10 years, we've provided banking services in the Bronx to people who have been left out of banking. People that don't interest big banks because they don't bring in big deposits. And that's how banks—us included—make money. So offering banking services in low-income neighborhoods doesn't make "sense" for the bottom line of many traditional banks. The check cashing and pawn shop industries know this all too well. This $11 billion industry—with over 530 licensed checking cashing locations in New York—counts on banks not showing up in these communities, like the Bronx; their bread and butter. Enter the financial inclusion movement. Grameen America, the Center for Financial Inclusion and the Consultative Group to Assist the Poor are some of the larger, global players make strides to organize industries to become more financially inclusive. The B Corp community has stepped in with the 2018 Inclusive Economy Challenge and the CDFI banks share best practices for small dollar consumer and small business lending.
Melanie Stern, our Director of Consumer Lending explains why financial inclusion in the South Bronx is so important.
"For families in the South Bronx finding affordable financial products and services can be a challenge. While a check cashier or pawn shop might be just down the block, a welcoming bank branch can be hard to find. Add to that the perception and often the reality that large banks aren't really interested in your business and that fees can be prohibitive and you have a recipe for disengagement from mainstream financial institutions," explains Melanie.
Often, Melanie says, it comes down to having access to good information, a.k.a. financial literacy.
"When we see customers, for example that have multiple insufficient fund charges at another bank equaling hundreds of dollars per year or are using check cashing rather than a bank account—we believe they may need better information about managing their finances and a bank account that won't deplete their hard-earned account balances. Having good information and ready-access can translate into enormous savings," says Melanie.
Melanie believes that partnering with the experts is the best way to achieve financial outcomes for our community.
"We create the right types of lending products and our nonprofit counseling partners provide the best and most targeted counseling. We also share best practices with other CDFI Banks, CDFI Credit Unions and nonprofit CDFI lenders," says Melanie.
In the spirit of Financial Literacy month this April, we invite you to join us in exploring what financial inclusion looks like in our city and beyond. We'll be sharing practical financial tips, stories of our partners working to empower the financial health of our community and global financial inclusion trends. Check out our personal lending products, created specifically to include all of us in the economy or contact Melanie directly at [email protected] for more information.