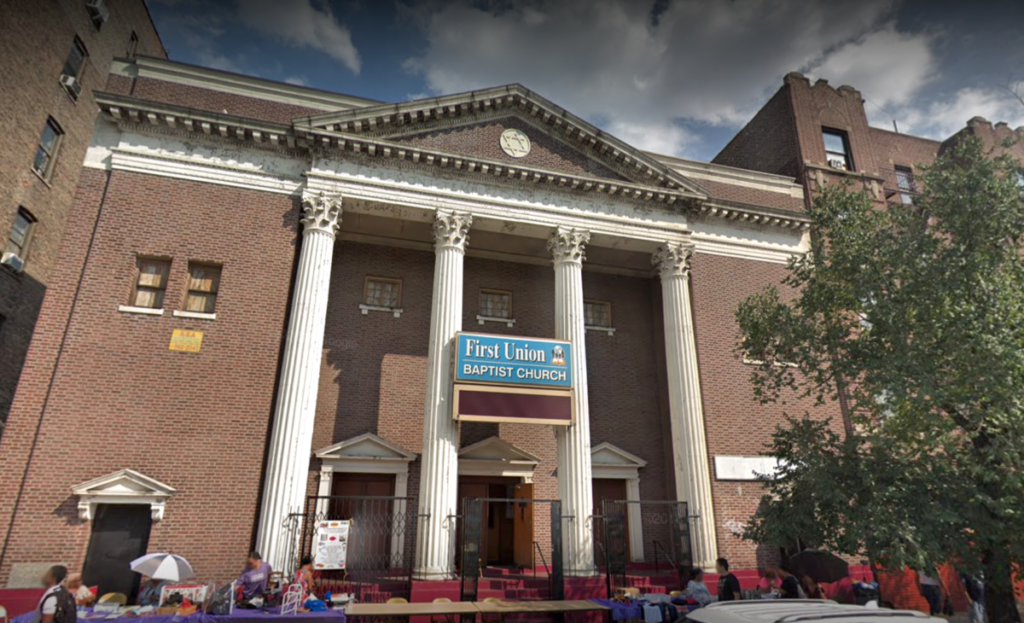 For 45 years, the African American congregation of First Union Baptist Church has worshipped and served together in a historic building on Grand Concourse in the Bronx. Just a few months ago, a proposed redesign of the space including 45 new units of affordable housing and new retail space helped the church continue their legacy. We are incredibly proud to have supported this community-led effort using a creative approach to commercial lending.
Over the previous decade, the church faced significant financial troubles: declaring bankruptcy in 2012 and facing foreclosure. The Legal Aid Society and local developer Thorobird launched an effort to keep the church alive.  Turned away by other banks, they approached our commercial lending team. After meeting with Thorobird, Akbar Rizvi, our Chief Lending Officer, knew that we could help meet their financing needs.  
"This was a win-win because it allowed First Union Baptist Church to come out of bankruptcy and foreclosure and stay at its location in a newly built facility by Thorobird. Additionally, Thorobird would be able to develop the property to its fullest potential and create affordable housing," units. explains Akbar.
The church property will be reconstructed to become an eight to ten story building with mixed-use commercial space and with the support of government funding includes 45 units of affordable housing.
"We listened and took the time to understand the big picture. This was not a cookie-cutter loan request, but at Spring Bank we pride ourselves on making hard deals work if the community benefits. We are a prudent lender, and we are also a community lender," says Akbar.
Quoted in an interview with Spectrum News NY1, Thomas Campbell, Managing Member of Thorobird Companies, says, "Here, affordable housing, which is also needed in this community is a vehicle for saving a church."
The restructuring allows the church to maintain its current location without a mortgage or rent payment, protecting their long-term sustainability. The plan is for redevelopment and construction of the church to start by the end of the year. Not only will the new facility provide worship space, but the church will continue to provide community benefits like meeting facilities, food pantries and soup kitchens and educational enhancement programs.
Jay Hack, a partner at the law firm of Gallet Dreyer & Berkey, LLP, the attorneys for Spring Bank on the loan transaction, explained, "Our firm represents a lot of banks, and I talked to many bank executive officers about this deal. Every one of them said they would not touch it. However, Spring Bank persevered. I laid out the legal issues that the church found itself embroiled in and the bankers set forth a strategy to get things done and the community will benefit by it."
As a mission-driven, B-Corp bank, we provide flexible and creative lending opportunities for small businesses, acquisition and refinance of commercial real estate, and non-profits in addition to providing an array of consumer loan products. We actively lend within New York City, Westchester, Nassau, and adjacent counties and our commercial loan products can be used for refinancing and acquisition of 1-4 family, multifamily, mixed-use, retail, light industrial, SRO, and owner-operated development. We are a Preferred Lending Partner of the SBA and can offer Small Business Lending products such as the SBA 7(a), Express, and 504 loans to help meet your business needs.
Read here for more information about our commercial lending portfolio or to learn about building a relationship with us, contact Akbar Rizvi, our Chief Lending Officer at 718-879-5000.